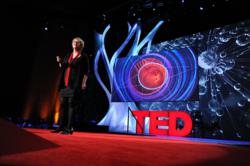 I'd seen it every day, but this time I saw it differently.
(PRWEB) June 08, 2011
Studio Echelman announced that Janet Echelman's presentation at the annual TED conference will premiere as a headlining video on TED.com today.
TED is known for inviting "the world's most fascinating thinkers and doers" to speak about their lives and work. The nine-minute video of Echelman's talk is entitled "Taking Imagination Seriously."
Echelman, a self-taught artist, recounts the story of her first creative breakthrough into sculpture -- a re-examination of everyday materials -- which became a catalyst for her monumental artworks. She recalled walking through a fishing village in India as a young artist who, after a series of setbacks, one day recognized the latent beauty and sculptural possibilities in fishing nets.
"I'd seen it every day," she explained, "but this time I saw it differently -- a new approach to sculpture, a way to create volumetric form without heavy solid materials." With the help of local fishermen she used the ancient knotting craft to create her first satisfying sculpture: a billowing self-portrait entitled "Wide Hips."
Today, Echelman's sculptures have received international recognition for urban transformation and "place-making." This month, the Phoenix Civic Space Park, home of Echelman's 145-ft-tall sculpture "Her Secret is Patience", received a prestigious biennial Rudy Bruner Award Medal for Urban Excellence. In addition, this month Echelman begins the Guggenheim Fellowship in Fine Arts, a one-year award from the John Simon Guggenheim Memorial Foundation to pursue creative research.
Additional international commissions include the 164-ft-tall "She Changes" in Portugal, "Water Sky Garden" which premiered at the 2010 Vancouver Winter Olympics, and "Every Beating Second" at the San Francisco International Airport's new Terminal 2, home to Virgin America and American Airlines.
Echelman uses various materials to reshape urban space with soft sculptures that move with environmental forces. Her newest commission, slated for completion in 2013 in downtown Philadelphia's Dilworth Plaza, is a dynamic sculpture environment that traces the pathways of subway trains from above ground using curtains of "dry-mist" and colored light.
About Studio Echelman (http://www.echelman.com)
Studio Echelman explores the cutting edge of sculpture, public art, and urban transformation.
###