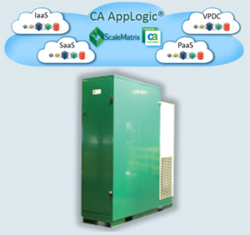 Before our solution was available, deploying cloud infrastructure on-site could cost millions.
San Diego, CA (PRWEB) June 08, 2011
ScaleMatrix today unveiled the ScaleMatrix Cloud in a Box, a new solution powered by CA 3Tera® AppLogic®, allowing companies to deliver public, private or hybrid clouds in hours rather than days or weeks. The ScaleMatrix Cloud in a Box was developed as a joint offering in the U.S. between CA Technologies and ScaleMatrix. It combines the CA 3Tera AppLogic cloud platform with ScaleMatrix's hardware solutions to deliver on-premise private clouds, helping enterprises and service providers accelerate delivery of IaaS, PaaS and SaaS in a single, easy-to-deploy environment.
ScaleMatrix has developed an innovative, self-contained, air-conditioned rack that can be deployed just about anywhere – inside a traditional data center environment, such as a colocation facility, or in a standard corporate office room or building. It is more energy efficient than other available options, achieving a 1.3 Power Usage Effectiveness (PUE) rating at a 12 KW load, a vast improvement over the national data center average of 2.0 PUE. Unlike traditional open rack options, the fully enclosed rack offers customers protection against common elements such as dust and water, helping to safeguard their critical data, applications and equipment from damage or accidents that may occur during every-day use.
The CA 3Tera AppLogic cloud computing platform enables customers to quickly provision, deploy and manage cloud applications as supporting infrastructure. Users can pull from a catalogue of reusable applications to rapidly compose, deploy and manage complex, online applications, significantly reducing time-to-market for new business services.
ScaleMatrix is offering custom application templates and virtual appliances in addition to the standard catalogue of resources available with the CA 3Tera AppLogic platform. Sample custom applications and appliances include:

Windows Server 2008 32/64
Microsoft Exchange 2010
osCommerce
MODx+Sugar CRM+osCommerce
"The Cloud in a Box offering from ScaleMatrix significantly reduces the time, costs and risks often associated with moving to a cloud environment. With all of the necessary hardware, storage and network switching gear combined with the CA 3Tera AppLogic cloud platform in a single cloud solution, ScaleMatrix is making the cloud more accessible to its SMB and small enterprise customers," said Wendy Petty, senior advisor, Cloud Strategy and Solutions, CA Technologies.
"The Cloud in a Box solution allows businesses to realize their cloud initiatives on-site in their own facilities, giving IT direct control over the hardware and software. Before our solution was available, deploying cloud infrastructure on-site could cost millions. With the ScaleMatrix Cloud in a Box, our customers can ramp up their on-premise clouds much more quickly and cost effectively," said Mark Ortenzi, CEO, ScaleMatrix.
The ScaleMatrix Cloud in a Box solution starts at $70,000* and includes:

1 ScaleMatrix Self Contained Rack with Firetrace Fire Suppression
4 Dell PowerEdge R410 Dual Socket Servers (Westmere) QUAD-CORE 2.4 GHz E5620, 16GB RAM, 1TB HD
2 Brocade Fastiron FCX-624G Switches
8 CA 3Tera AppLogic Licenses
Pre-configured CA 3Tera AppLogic® Templates
3-Year Server Hardware Warranty
The Cloud in a Box is now available from ScaleMatrix to North American customers. For more information call (888) 349-6394.
*Price correct as of June 6, 2011 but may be subject to change without notice.
About ScaleMatrix
ScaleMatrix is a Private Cloud Solutions Provider (PCSP) with expertise in Colocation and Dedicated Server technology. ScaleMatrix was founded with the intent to design, deploy and manage the best Private Cloud solutions available. ScaleMatrix can satisfy small start-ups to Fortune 500 enterprises by leveraging the years of knowledge, infrastructure, strategic partnerships, and technology. ScaleMatrix architects, deploys, and manages their entire solution in any one of the 12 data centers they occupy across the United States or in a customer's own private data center. For additional information, visit ScaleMatrix at http://www.scalematrix.com.
###