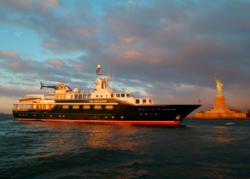 New York, N.Y. (PRWEB) June 08, 2011
Forbes confirmed today that their boat, The Highlander, will be sold, after 25 years of entertaining the world's most important corporate leaders, presidents of the United States and foreign countries, kings, queens, international royalty and entertainment icons. Her legacy goes well beyond entertaining: The Highlander has cruised around the world including the Pacific Rim, Saint Petersburg in Russia, Alaska, the Amazon, Caribbean, and America. She is known Worldwide as the "Ultimate Capitalist Tool".
In making the announcement Robert Forbes, President of ForbesLife, the company's lifestyle magazine and website commented, " This Highlander, like its four predecessor ships, has served us brilliantly over the past two and a half decades, as a completely unique way to convey the Forbes brand with our clients and associates. But the current economic climate has made it necessary to reassess this means of entertaining. The world has changed in many ways since we began using The Highlander and it's time to explore new ways to promote the Forbes brand and involve our clients in exciting new ways. We have many new initiatives and ideas in this area, which we will be sharing soon."
THE HIGHLANDER 1985 46 meter (151') Feadship, built at the de Vries shipyard in Holland, is the fifth in a series of boats commissioned by Malcolm Forbes since 1955. Launched in 1985, she offers the highest quality Dutch construction with superb styling by world renowned yacht designer Jon Bannenberg. Designed with five staterooms including a full beam master, she has a main deck Observation Room that could easily become a sixth stateroom. She has all the amenities one would expect including luxurious accommodations and a helipad for quick arrivals or departures.
She is berthed at Bradford Marine in Fort Lauderdale and is being represented and offered for sale at $11.5m US by Whit Kirtland CPYB. Whit and his family helped Malcolm Forbes build this yacht as well as previous yachts owned by Malcolm Forbes, the family and Forbes Magazine. In an interview with Whit Kirtland he noted, "This is a historic time in the yacht industry- the history, memories and memorabilia tied to The Highlander will always be priceless. For a glimpse of Liz Taylor, Ronald Regan, Prince Charles or a young Donald Trump, you can visit The Highlander's website at http://www.TheHighlander151.com . Serious inquiries are welcome and I will be glad to arrange for a private showing."
###