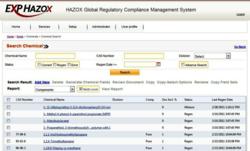 The latest generation of Hazox® is ... the most extensive rewrite the application has seen since its initial launch in 1983.
Somerset, NJ (PRWEB) June 07, 2011
EXP-Hazox announced the release of a web-based version of their Hazox® regulatory document authoring & management solution. The latest generation of Hazox® (version 5.0) is the culmination of a multi-year reengineering effort, resulting in the most extensive rewrite the application has seen since its initial launch in 1983. The announcement coincides with the launch of HazoxGiveaway.com- a bold online promotion offering the base module of the Hazox® web solution for free to new customers throughout the month of June.
By migrating Hazox® to a web-enabled platform, version 5.0 has a number of inherent advantages over previous generations. The web application requires no new software installation on individual users' computers nor a complex "roll out" procedure to deploy; a standard internet browser is all that is needed. As a result, Hazox® v5.0 can be deployed in a fraction of the time, effort and cost of traditional client/server installations. Moreover, the ubiquity of browsers on nearly every modern computer greatly increases users' access to Hazox® within an organization.
With a renewed focus on efficiency, the web-application generates documents much faster than its predecessors. The user-interface has been reworked and streamlined, yielding considerable improvements navigating the application through various areas of functionality. Hazox® v5.0 is less "click-intensive", offering more efficient access to any given record's related data. – For example, it's now possible to view all documents for one product using just one click.
Perhaps the most powerful advantage of the migration to a web-based platform is that Hazox® now shares the same architecture with all other EXP-Hazox solutions. As a result, Hazox® v5.0 can be deployed in combination with any of the twelve other major applications in the EXPVision suite under a unified interface.
The web-based Hazox® solution is an important step toward diversifying EXP-Hazox offerings as a provider of MSDS authoring & management solutions. Access to Hazox® v5.0 will soon be offered on a subscription basis using the SaaS (Software as a Service) model, currently available on other EXP-Hazox systems. Please contact EXP-Hazox for more details or to request a demo of the web-based Hazox® solution.
About EXP-Hazox:
EXP-Hazox is a world class provider of Quality, Environment, Health and Safety (QEHS) and Governance, Risk and Compliance (GRC) management systems. Since 1983, Hazox® has deployed regulatory document & label authoring/management solutions for some of the most admired corporations in the chemical, manufacturing and pharmaceutical industries. EXP-Hazox currently has 13 major product lines in the areas of QEHS & GRC. EXP-Hazox headquarters are located in New Jersey, with support operations in Europe and Asia.
For more information on the Hazox® June Giveaway Promotion:
http://www.HazoxGiveaway.com
For more information on the Hazox® Regulatory Document Authoring & Management Solution:
http://www.exphazox.com/solutions/hazox-ems-suite
© Copyright 2011 EXP-Hazox. All rights reserved.
###