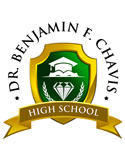 I believe this new high school represents an innovative way for individuals to get an affordable, accredited high school education in preparation for transition to the workplace or postsecondary education - Dr. Benjamin F. Chavis, Jr., President of EO
Pensacola, Fl (PRWEB) June 07, 2011
Dr. Howard A. Liebman, Superintendent of Schools for Smart Horizons Career Online Education (SHCOE), the world's first AdvancED/SACS accredited online school district, has announced a large-scale partnership with Education Online Services Corporation (EOSC) to design, build-out, and launch the Dr. Benjamin F. Chavis High School (BFCHS).
EOSC (http://www.EducationOnlineServices.com) was founded by a select team of academic and marketing executives. This visionary team recognized the opportunity to help the underserved market of Historical Black Colleges and Universities (HBCU) develop full-service online curriculum programs and increase enrollments for students and communities while also emphasizing retention and student support functions.
"I believe this new high school represents an innovative way for individuals to get an affordable, accredited high school education in preparation for transition to the workplace or postsecondary education," said Dr. Benjamin F. Chavis, Jr., President of EOSC. "It's very important for people to understand that online education today is just as rigorous as on-campus education and sometimes more so. I see this new innovation high school as helping to meet President Obama's goal of providing opportunities for adults who need a second chance to further their education."
Also Co-Founder, President and CEO of the Hip-Hop Summit Action Network (HSAN), Dr. Chavis previously served as President and CEO of the National African American Leadership Summit, was National Executive Director for the Million-Man March, and, in 1993, became the youngest Executive Director and CEO of the NAACP.
"This is a unique opportunity to re-engage adults to complete their high school education as well as prepare them for college and a life career, which is the focus of various reform initiatives in education at the present time" said Ezell Brown, Chairman and Co-Founder of EOSC.
The AdvancED/SACS accreditation, student services, and academic components for BFCHS will be provided and managed by SHCOE with students enrolling for the online courses through the BFCHS web site.
About Dr. Benjamin F. Chavis High School
Dr. Benjamin F. Chavis High School, is a division of Smart Horizons Career Online Education, a private, AdvancED/SACS accredited online school district. AdvancED/SACS District accreditation signifies that SHCOE and all of its schools are fully accredited and that SHCOE is recognized across the nation as a quality school system. Dr. Benjamin F. Chavis High School offers 18-credit, career-based high school diploma programs that are designed to prepare students for entrance into the workplace. Career certificate offerings include Childcare Education, Office Management, Protection Services, Homeland Security, Healthcare (coming in Fall 2011) and Transportation Services. For more information, visit http://www.drbenjaminfchavishighschool.com, call 866.895.8019.
About Education Online Services Corporation (EOServe Corp)
Education Online Services Corporation assists colleges and universities with the development and deployment of full service online degree programs. We implement recruitment and enrollment marketing plans, and support students with securing financial aid, as well as provide retention services. We work with each college or university individually, and customize our flexible solutions platform to meet the requirements and online education objectives of each educational partner. For more information visit: http://www.EducationOnlineServices.com
###