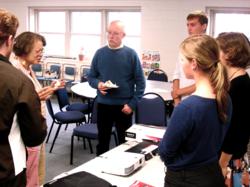 "It's not enough to give our students excellent academic preparation. We also want to teach them how to think, and then, empower them use what they've learned to become effective and ethical leaders in today's connected world.
West Chester, PA (PRWEB) June 15, 2011
Westtown School, a Quaker college preparatory school in West Chester, PA, is home to a quiet revolution. Students at the pre-K – 12 school now benefit from the latest research on educational assessment, taking "tests" that look very different from the paper-and-pencil, multiple choice and essay versions of the past. Although students still take traditional tests and teachers still prepare Upper School students to take standardized college-entrance exams like the SATs or ACT, non-traditional evaluations are increasingly part of a Westtown education.
Assessment is one of the most controversial topics in education today. Doing well on tests is critically important when exam scores determine final grades, and standardized testing is used for college admission, rating teacher effectiveness and determining state funding for individual school districts. But does "getting" an A or scoring in a top percentile guarantee students understand – or will actually be able to use what they've learned?
What are the best ways to teach 21st century skills and proficiencies, and how do we know if students have mastered them? According to Joe Marchese, Westtown's Assistant Head for Professional Development, high school graduates should be prepared to access and analyze large amounts of data, think critically and creatively, engage in collaborative problem-solving and communicate effectively. Westtown is committed to giving students these skills, teaching and evaluating based on these new realities. "We believe assessment is one more step in the overall learning process. Done well, it reinforces what students are learning, and it tells us whether we're teaching them what they really need to know."
In a Westtown Advanced Religion course, for example, seniors recently taught adults about Martin Buber's classic work of religious philosophy, I and Thou. Not only did their ability to teach the material demonstrate deep understanding, but they presented it in a meaningful context where being able to communicate effectively really mattered. Students made choices about how to organize complex information, and afterward, they answered questions and led discussion.
Elsewhere, Westtown 7th graders adopted personas of famous Americans. As part of a larger research and writing project, students collaborated in small groups to plan a party for their classmates that celebrated the talents and interests of "their" persons. Fred Astaire, Yo-Yo Ma and Julia Child held an awards party at which Ma played his cello and Child served a chocolate cake with her own special icing recipe! If this sounds like altogether too much fun, there was also very real learning going on: students demonstrated deep understanding as they explained why they made the choices they did, synthesizing and applying their knowledge. Advanced World History students represented perspectives of European leaders, arguing for and against the inevitability of WWI; they were evaluated not only on their knowledge but also on the basis of their persuasive oral communication skills.
In another example, Westtown Spanish students participated in a series of performance-based assessments, demonstrating language proficiency by engaging in real-world tasks. Students wrote resumes, interviewed for jobs, presented a public service announcement, shared authentic personal stories, created promotional material for Westtown's Spanish-speaking prospective families and collaborated on a short film. And in the 5th grade Laurels Project, students met a series of challenges that would have been part of a "classic" education in ancient Greece. In addition to writing, reading, science and math projects related to ancient civilizations, they ran or walked a marathon in increments, composed and performed a piece of original music and made a Grecian sephora decorated with traditional designs – all part of a series of "mini-evaluations" addressing their multiple intelligences.
Why has Westtown made these changes? Head of School John Baird said, "It's not enough to give our students excellent academic preparation. We also want to teach them how to think, and then, empower them use what they've learned to become effective and ethical leaders in today's connected world. Along the way, their excitement and enthusiasm for learning are what give it long-term staying power." Albert Einstein once said, "Education is what remains after one has forgotten what one has learned in school." Westtown instead believes that if an education is authentic, it lays the groundwork for all that comes after.
###