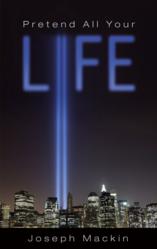 Not since DeLillo's Falling Man has an author so successfully used the 9/11 catastrophe as a narrative device for probing the good, the bad, and ugly of Manhattan."
– Michael Adelberg,
New York Journal of Books
New York, NY (PRWEB) June 08, 2011
As the 10th anniversary of the terrorist attacks in the U.S. draws near, the publishing industry is preparing for a re-emergent interest in post-9/11 books by American authors.
Pretend All Your Life (Permanent Press, 2010), the novel by Joseph Mackin, whose work The New Yorker has called "elegant," takes place in just six days in the eerie winter after the World Trade Center attacks. Dr. Richard Gallin is a successful Park Avenue plastic surgeon suddenly hard-pressed to hold on to his place in a post-9/11 world he hardly recognizes.
"The setting places Pretend All Your Life in the company of other post-9/11 meditations like Jonathan Safran Foer's Extremely Loud and Incredibly Close, Don DeLillo's Falling Man, and Spike Lee's 25th Hour. What sets Mackin's novel apart from these other titles, however, is its distance from the events. Mackin assesses the events and their fallout with a degree of intellectual clarity that's lacking in Safran Foer and emotional intensity that's missing in DeLillo. Pretend All Your Life presents the best of both worlds; it is as smart as it is heartfelt and thus, to my mind, the best reflection on post-9/11 America written to date. It is, in short, a powerful and moving book on what may well be the most difficult of subjects for Americans to ponder." – Marc Schuster, Small Press Reviews*
"Not since Sherman Alexie's Indian Killer…and Don DeLillo's Falling Man has an author so successfully used the 9/11 catastrophe as a narrative device for probing the good, the bad, and ugly of Manhattan." – Michael Adelberg, New York Journal of Books
Joseph Mackin received an MA in Literature from New York University, and has studied writing at Yale and at the IEN in Barcelona, Spain. He was the original Internet editor of The Paris Review under the direction of George Plimpton.
###