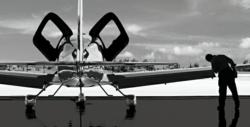 We are excited to be opening our third Cirrus Training Center at Palm Beach. As Platinum expands we are giving more people access to the Cirrus Aircraft as a real travel alternative to the airlines, said Alfredo Cortellini, Platinum's President.
Fort Lauderdale, FL (PRWEB) June 07, 2011
Today, Platinum Aviation Training announced that it plans to open a new location at the North County Airport (F45) in Palm Beach Florida to provide flight training for all aircraft certificates and ratings using Cirrus Aircraft, Cirrus Standardized Training and Cirrus Aircraft rental. Platinum operates two other Cirrus Training Centers, one at Fort Lauderdale Executive Airport and another at Miami's Opa Locka Executive Airport and operates a large fleet of new and newer fully equipped and air conditioned Cirrus Aircraft. This newest location will be adjacent to the Landmark Aviation FBO.
Platinum is the leader in the Cirrus Partner Network, having created an upscale training environment for it's customers desiring to rent aircraft, or learn to fly in the newest, safest, most technologically advanced aircraft available. Platinum is currently the only Cirrus Training Center that offers the entire Cirrus product offering on its rental line, including the newest SR22T. Platinum Aviation's facilities are unique in that those customers that are checked out at any of Platinum's locations can fly at all of its locations and have 24 hour access to the aircraft.
Leaseback opportunities for Cirrus SR20. SR22 and SR22 turbo aircraft are available for those interested in participating in Platinum's aircraft leaseback program. For additional information on leasebacks, contact Kevin McAndrews, Platinum's Director of Sales at 954-202-5995.
Platinum Aviation Training is a Platinum Aviation Holdings company. Platinum Aviation Holdings is a South Florida based family of companies dedicated to serving the needs of the newest Technologically Advanced Aircraft market. Platinum was originally founded as a unique flight training facility to train those that only wanted to learn to fly the latest, best-equipped aircraft available and learn from flight instructors that were the best in the industry. That original concept has grown into a full service company that now includes flight training, aircraft rentals, aircraft maintenance, aircraft sales and an aviation related film and video production company with locations at Ft. Lauderdale Executive Airport, Miami's Opa Locka Executive airports and soon at Palm Beach's North County Airport. For additional information, contact the company at 954-202-5995 or see its website, http://www.flyplatinum.com
###