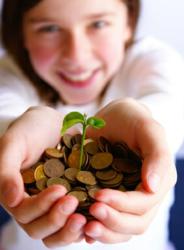 Our mission is to help kids appreciate money and allow parents to raise money-smart kids through our ongoing educational content.
Ann Arbor, MI (PRWEB) June 07, 2011
FamilyMint, the online money management application that helps kids appreciate money is excited to announce that they have been awarded the 2011 Parents' Choice Approved Seal. The Parents' Choice Awards program is the nation's oldest nonprofit program created to recognize quality children's media.
According to the Parents' Choice committee, winning products, "entertain and teach with flair, stimulate imagination and inspire creativity and help a child grow in many ways: socially, intellectually, emotionally, ethically, and physically." The awards are determined by a panel of educators, scientists, artists, librarians, parents, and kids and they are designed to provide parents reliable, unbiased information about quality products.
"It's an honor to receive such recognition from the Parents' Choice Foundation," says Bob Masterson, president of FamilyMint. "Our mission is to help kids appreciate money and allow parents to raise money-smart kids through our ongoing educational content."
Parents Choice
Parents' Choice Foundation is the nation's oldest nonprofit consumer guide to quality children's media. Parents' Choice evaluates the entire scope of children's media, and every year recognizes the very best with its coveted Parents' Choice Awards. The Parents' Choice Approved Seals are given on the basis of the production, entertainment and human values they exemplify. A Parents' Choice Approved seal indicates a wholesome product that helps children enjoy developing physical, emotional, social or academic skills. Now, "FamilyMint" has been recognized and proudly carries their seal. http://www.parents-choice.org
About FamilyMint.com
FamilyMint is an online personal financial management (PFM) and educational tool for kids designed to start forming the right financial behaviors in an interactive, fun and simple way while emphasizing the importance of saving, setting and achieving goals.
What's unique about FamilyMint is the child is in the driver's seat organizing their money, establishing goals and working to achieve them. Parents are the bankers and help guide and motivate their children. Parents can also automate allowance, which is a huge relief to many, and add interest payments and match goals to help motivate their kids to save and appreciate their money.
FamilyMint is a great way to discuss finances with the entire family and educate kids of all ages about proper money management, setting the foundation of saving that will benefit them for the rest of their lives. FamilyMint also provides ongoing financial literacy tips and ideas for parents and kids through an online blog, weekly email Snippet, and additional online resources.
FamilyMint is now also partnering with credit unions and other organizations to assist in educating, attracting and retaining young members. FamilyMint is the only budgeting and goal setting youth program available where kids learn by managing their own money in a safe, virtual environment.
###