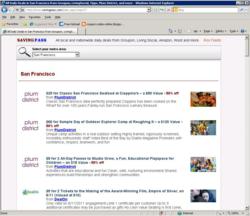 Herndon, VA (PRWEB) June 09, 2011
When accessing the SavingPass.com website for the first time, users can browse all the available nationwide deals-of-the-day, from various sources like Amazon Lightning Deal, Amazon GoldBox, Buy.com Deal of the Day, Overstock Daily Deal, Woot.com Daily Deal, as well as nationwide offers from LivingSocial, Groupon, PlumDistrict, and more.
In addition, the user can choose one of the more than 100 available metro areas, and then browse the regional daily-deals for the selected area, for fantastic limited-time discounts at local restaurants, stores, services and attractions, as provided by Groupon, LivingSocial, PlumDistrict, Tippr, BuyWithMe and DealOn. Once a user has selected a metro area, the next time he visits the SavingPass.com website, he will be automatically redirected to the daily-deals for that region. And of course, he can choose another metro area anytime with just a click of the mouse.
"With the SavingPass website, our users can view all the daily-deals from Groupon, LivingSocial, PlumDistrict, Tippr, BuyWithMe, Woot, Yugster and other sites, in just one place, anytime they want it, for any of the available US metro areas, without the need to receive tens of emails every day or browse tens of websites", said Neculai Papaghiuc, CEO. "Plus, when they travel to a different city, out users can just browse the available daily-deals and coupons in that city, without subscribing on any other websites to receive new daily emails for that city."
For additional information on the news that is the subject of this release, contact Neculai Papaghiuc or visit http://www.savingpass.com.
About MindSoft LLC
MindSoft LLC is dedicated to implement the best online tools to help savvy shoppers to save time and money on their purchases. In addition to the newly-released SavingPass website, MindSoft LLC also operates the PocketDeal.com website, providing thousands of up-to-date coupons and bargains that can be found on a wide range of consumer products at hundreds of online and retail. MindSoft LLC is headquartered in Herndon, Virginia.
###