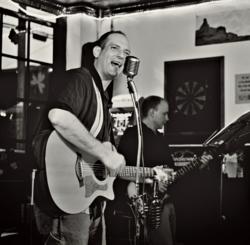 Is 'honest' a genre? Because if it is, that's the word I choose, as it best describes the entire Hawk discography.
Hamilton, VA (PRWEB) June 08, 2011
It's been 22 years since Andy Hawk wrote his first complete song, yet he feels like a newcomer on the scene – a newcomer who may one day soon be penning tunes for other acts.
He's picking up momentum like a newbie would, but at 46 he's a grizzled veteran with some 200 songs, 7 albums, and hundreds of shows under his belt. This could be the classic ironic example of an overnight sensation 20 years in the making.
With the release of his seventh studio album ("Another Storyline") in mid-2011, the well-traveled songwriter has matured into his middle-aged self, and it's the blend of old and new that permeates his songs and gives them a retro yet timeless feel that's different enough to belie a simple categorization of his style. It's downright difficult to pigeonhole the guy, which will work in his favor as a writer for other artists.
Folk/Rock? Yup.
Americana? Sure, some.
Country? On occasion.
Pop? He loves the Beatles, and it shows in the melodies.
His voice is reminiscent of mid-'60s Bob Dylan, so to some extent Dylan's as close as you'll come to defining him.
Paul Simon? Keen? Petty? Springsteen? Earle? Cale? Mellencamp?
Yes, you betcha, yeah, affirmative... you get the idea.
"I think (the hard-to-classify tag is) by far the best thing about my writing," Hawk said. "I love the fact that you can hear elements of so many things in so many songs. It's hard to give an elevator pitch with it, but I think there's something for everyone in what I've written."
He's written everything from power pop to rock to love songs to country to folk to kids songs to the blues. Throw in the Americana of "Real Gone Girl" and you have a palette as varied as any songwriter out there.
One flummoxed reviewer said, "I mention (3 genres) but even they don't quite capture the essence that is Andy Hawk. Is 'honest' a genre? Because if it is, that's the word I choose, as it best describes not only this latest release but the entire Hawk discography."
Gary Rudinsky is a Northern Virginia musician who sings 12 of Hawk's songs during his acoustic gigs, and has just finished a solo CD that includes seven Hawk originals.
"I think (as a songwriter) he's a unique entity unto himself," said Rudinsky, who played for a while with the Human Beinz just before they had their No. 3 hit "Nobody But Me" in 1968. "He really has strong lyrics that evoke mental snapshots. I could paint pictures from his songs. They don't just evoke emotions; they evoke pictures that evoke an emotional response."
He cites "New Orleans" and "My Old Hometown" – from the band's "Another Roadside Attraction" (2010) – and the unreleased "Bourbon Rain" as his favorites to play.
"I've lived some of these songs."
Rudinsky said he can hear Norah Jones doing some of the tunes, as well as Willie Nelson, Waylon Jennings, and Johnny Cash in his day, but even he has trouble identifying Hawk's sound.
"If I had to say anything about his sound and style, I guess it's one part Dylan, one part Harry Chapin, with a twist of Springsteen. Oh, and Paul Simon."
Songwriter Shane Borders, who sang on Hawk's "My My" on Another Roadside Attraction, echoes Rudinsky about Hawk's strengths and styles.
"I could hear REM doing 'My My'; it's just a great pop song. I think Tom Waits would sound great with 'New Orleans' He just has solid melodies and lyrical content."
Also, youngster Emma Rowley has released a single of Hawk's "Prettier Song" – look for his own version on "Another Storyline" – that has had a strong showing on iTunes.
At 14, she's already appeared on Broadway ("Bye Bye Birdie" & "Gypsy"), and is now a budding songwriter in her own rite.
Amid the artists currently doing versions of Hawk's songs is an ever-growing group of fans who came to Hawk's music via the songwriter himself. Hawk and his band have slogged through shows in dive bars, coffee shops, festivals, hotel lobbies, and a number of other venues, and have picked up fans the hard way.
Ryan Austad was sitting at King's Court Tavern in Leesburg, Va., one night when The Train Wreck Endings took the stage, listened and chuckled through Hawk's spiel about how CDs were free… "with a $5 tip," and he bought their CD "Tin Can Town" (2009), and became an instant fan.
"In many ways his songwriting is strong because of his ability to express a scene that taught something or had a profound affect," Austad said.
"If I was going to take a shot and compare him with another songwriter, I would say Bruce Springsteen, especially during his 'Nebraska' album, or even a little Van Morrison during his 'Astral Weeks' album."
Another fan is Bob Bamberger of Baltimore. He's seen the group more than 20 times, and feels that success can't be measured in sales because "(Hawk's) lyrics are superior to almost anything you'd hear on the radio today, and his melodies and pop-rock sensibility are rarely heard in music anymore. The only reason he's not a revered songwriter is that the right person or people have not heard his body of work."
So, word-of-mouth is running, the reviews are positive, and the momentum is building. That still doesn't guarantee this guy will be quitting his day job as a high school teacher. But that's the way the music business works.
"(Songwriting's) ingrained in who I am, so I guess I'll be doing it for quite a while," he said.
Maybe soon we'll all know who he is.
# # #