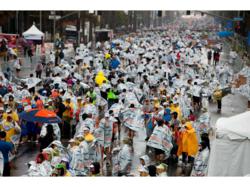 We were extremely pleased with the quality of work and professionalism Ryan Rush and his team provided. Stated Maggie Crosby, LA MARATHON LLC
(PRWEB) June 08, 2011
Universal Marathon Blankets, a subsidiary of Universal Packaging, Inc. supplied the Honda LA Marathon presented by K-Swiss with their newest line of marathon blankets. Universal Marathon Blankets has created a thinner and more easily recyclable blanket made from Polypropylene recycled under symbol #5, which is a much more easily recyclable product. "We are featuring all water based inks and are making great efforts to make these blankets 'more green'," stated Ryan Rush, President of Universal Marathon Blankets. These custom printed blankets can display images, logos, and text and are shipped in rolls for easy distribution. The Honda LA Marathon used Universal Marathon Blankets to print their signature artwork and logo along with four different slogan designs.
Universal Marathon Blankets offered great cost savings to LA MARATHON LLC organizers providing them with thirty thousand blankets. These warming blankets truly came in handy for Honda LA Marathon participants dealing with the stormy conditions presented to them on March 20. "We were extremely pleased with the quality of work and professionalism Ryan Rush and his team provided. They took the extra step to meet our needs while keeping costs considerably low even with our four different designs," recalled Maggie Crosby, Marketing Coordinator of LA MARATHON LLC. Universal Marathon Blankets is waiving the cost of all printing plates through the end of 2011 for all order quantities over ten thousand units. "We are really hoping to grow our market share with this new product and are very happy to have started a relationship with the fourth largest marathon in the United States, the Honda LA Marathon," said Rush "We are looking forward to future events and are very pleased to be working with them."
About LA MARATHON LLC:
We inspire athletes and connect communities. With thousands of volunteers, tens of thousands of participants and hundreds of thousands of spectators, the Honda LA Marathon presented by K-Swiss is one of the largest organized road races in the country. For more information, visit http://www.lamarathon.com.
About Universal Marathon Blankets:
Universal Marathon Blankets has continued to grow year over year since 2007. We offer competitive prices and great customer service. In addition, as of October 2010, we have partnered up with Troy Jacobson. Coach Troy Jacobson, the Head Endurance Coach of Life Time Fitness and the Official Coach of IRONMAN has endorsed Universal Marathon Blankets as his source for premium, high quality marathon blankets.
http://www.marathonblankets.com/sponsors.html We look forward to future growth and the continued support of our customers.
###