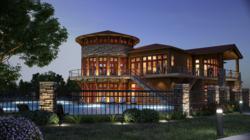 This is the perfect opportunity to own luxurious real estate in Ellicottville at a very economical price point.
Ellicottville, NY (PRWEB) June 08, 2011
EllicottVillas, a unique, new fractional real estate and private residence club has been launched this month for active adults and families looking for affordable luxury in Ellicottville, a four-season recreational destination just south of Buffalo, N.Y.
Ellicottville (http://www.ellicottvilleny.com), which has been described by the New York Times as 'the Aspen of the East,' is a four-season playground that combines the charm of an historic town with an abundance of shops and restaurants, some of the best skiing in the state of New York (consistently ranked top five in the east by Ski Magazine) and numerous other outdoor pursuits ranging from golf and hiking to mountain biking and horseback riding.
Unique To Ellicottville
An exclusive fractional development, EllicottVillas is unlike anything else in the popular village, harnessing the experience of renowned DCM Hospitality to deliver five-star services and club amenities in a spectacular community of fully furnished, beautifully landscaped three-storey villas.
"The upscale residences at EllicottVillas not only feature the highest quality construction and finishes, but are also outfitted with the distinctive furnishings and quality appliances that go hand-in-hand with comfort and pampering," said Ken Bihl, Director of Residence Marketing and Sales for the EllicottVillas development, which is being spearheaded by local entrepreneurs Mark and Kathleen Balus. "This is the perfect opportunity to own luxurious real estate in Ellicottville at a very economical price point," he said.
Brian McFadden, executive director of the Ellicottville Chamber of Commerce, also expressed enthusiasm for the project. "Ellicottville has enjoyed an incredible transition from a winter ski town a few years ago to a top four season resort," said McFadden. "The addition of the upscale Ellicottvillas is another significant piece to grow this international vacation destination."
Fractional Offers Year-Round Enjoyment
Originally intended as a whole ownership luxury vacation home community, EllicottVillas has transitioned to a fractional private residence club, largely due to market demand for worry-free, flexible vacation homes. Owners purchase an eight-week-per year/one-sixth undivided interest in either a two, three or four-bedroom class residence, that includes two prime winter weeks and two prime summer weeks, with the added flexibility to book a short notice stay as often as they like, space permitting.
Club ownership entitles them to all of the services they would expect from a five-star resort and more. On-site management services, provided by DCM Hospitality, include housekeeping, transportation and a host of personalized services from grocery shopping, to unpacking belongings, to reserving tee times or making dinner reservations.
Private Residence Club Lifestyle
"The lifestyle associated with a private residence club has great appeal," said Bihl. "There's no maintenance or upkeep, leaving you free to enjoy your downtime with your friends and family."
Each villa is designed as a three-story town home with garage, private deck and patio area, offering 3,000 square feet of living space that includes a spacious great room and kitchen, guest room, and third floor master with sitting area and fireplace. Once the clubhouse is completed, owners will also have access to a heated pool and jetted spa, fitness centre, games room, owner's lounge and sauna.
With six units already constructed, three-bedroom and four-bedroom villas are priced at $129,000 and $139,000 per 1/6 share respectively. Special introductory pricing of just $99,000 is also available on two spectacular two-bedroom floor plans, originally intended for whole ownership. Quarterly club fees range from $2,574 to $2,989, subject to change.
Located within walking distance of downtown Ellicottville, plans call for expansion from the current 16 villas in Phase One to up to 50 homes on the 10 acre site. An easy drive from many Ontario, New York, Ohio and Pennsylvania communities, it is piquing the interest of vacationers who don't want the hassle of air travel but are looking for year-round recreational enjoyment, says Bihl.
"Ellicottville offers everything you look for in a vacation destination, from skiing, cycling, hiking, golfing and fishing, to shopping, dining and entertainment, to a fabulous location nestled in the hills," he said. "With the launch of EllicottVillas, we're making it easier than ever to enjoy everything the community has to offer."
For More Information
EllicottVillas is located at 6394 Route 242 East in Ellicottville. For more information about the unique fractional opportunity, contact Ken Bihl at (716) 699-6600, send an e-mail to info(at)ellicottvillas(dot)com or visit http://www.ellicottvillas.com.
About DCM Hospitality
Established in 2005, DCM Hospitality offers services that address every stage of resort community management and is second to none when it comes to providing the ultimate luxury living experience. Based in Dallas, Texas, the company is the largest fractional management company in operation to date, servicing private residence clubs and boutique hotels in popular vacation destinations across the U.S., Mexico and Europe.
###