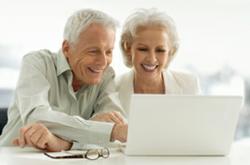 U.S. - National (PRWEB) June 15, 2011
With 2.1 million elderly nursing home and assisted living residents in the United States and approximately 78 million aging baby boomers, the number of Americans requiring assisted care continues to rise. Family members who are worried about the care their loved ones are receiving can now turn to a new service offered by icareinsite.
icareinsite will obtain the medical record of a family member receiving care in an independent living facility, assisted living facility, skilled nursing facility or by a homecare agency. If care is also being provided by an independent doctor or therapist, the company can also retrieve those medical records.
Once a medical record is obtained and stored electronically, icareinsite's registered nurses review the chart and provide family members with an easy to understand report using the company's own proprietary care indicators. These indicators are designed to give users an overview of all aspects of the care their loved one is receiving and also to serve as the foundation for monitoring trends. The report also contains a copy of the original medical record. icareinsite protects the security of this medical information and complies with all applicable privacy laws.
The information provided by icareinsite is updated regularly. Users will receive email alerts during the process and will be notified if a new provider, such as an additional doctor or therapist, becomes involved in the care of a loved one. The service also provides information about any drugs being provided and their interactions. This is especially important as a recent report by the Office of Inspector General (OIG) found that too often, elderly nursing home and assisted living residents are prescribed antipsychotic drugs in ways that violate government standards for unnecessary drug use.
According to Daniel Levinson, the inspector general for the OIG in the Department of Health and Human Services, "Family members of nursing home residents must learn about their loved ones' medications, the reasons for their use, proper dosages and possible side effects."
The icareinsite service provides information about medications and lab reports; patient appetite, well-being and pain level; and physician information. The report also contains medical records as well as a "nursing summary," where an icareinsite registered nurse reviews the information and provides family members with an easy-to-understand summary. For more information, please visit http://www.icareinsite.com.
About icareinsite
icareinsite provides families with a report of all aspects of care their loved ones are receiving. While all reputable nursing home and assisted living facilities are readily available to discuss the care of their patients with families, it's often difficult for a family member to know who to talk to, with multiple caregivers 24 hours a day, seven days a week. icareinsite knows what questions to ask and provides family members with a comprehensive overview regarding the care that their loved one is receiving, including drugs and their interactions.