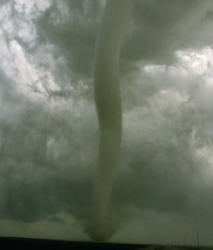 Being based in Florida we at MBMI have seen first hand the devastation potential of strong winds from tornadoes and hurricanes," commented Ian Strompf, MBMI Engineer.
Delray Beach, FL (PRWEB) June 07, 2011
MBMI Metal Buildings, supplier of pre-engineered metal buildings and accessories, announces the release of a newly designed safety building – an above ground tornado safe-rooms. MBMI's safe-rooms are designed by in-house engineers to be resistant to winds up to 200mph. The frame of each safe-room is manufactured in 24-gauge steel and reinforced with portal frames to provide additional support. MBMI's safe-rooms are designed with pre-welded connector clips and oversized 4" X 3" base angles to strengthen the joints between the framing components and between the framing and the concrete foundation.
Safe-rooms are tailor engineered for each individual customer based on capacity requirements. Customers can customize safe-room panels with one or more of 20 paint colors that come with a 40-year warranty. Above ground tornado safe-rooms double as hurricane safe-rooms and can be designed as stand-alone structures or as an attachment to an existing building.
"The tornado devastation in the south, along with the approaching hurricane season, inspired us [MBMI Engineers] to design an above ground safe-room that could make convenient affordable protection available to the masses. It's disconcerting to think of all of the lives that could have been saved had the necessity for proper safety precautions been better addressed."
For information on metal buildings designed for heavy snow loads visit http://mbmisteelbuildings.com/
For a free quote visit http://mbmisteelbuildings.com/metal-building-quote or call toll free 1-800-293-2097
About MBMI Metal Buildings
MBMI Metal Buildings, offering a wide range of great customer service, is among the leaders of metal buildings companies in the USA. MBMI specializes in steel buildings, custom designs, manufacturing, and fast delivery. Using state of the art technology and first class engineers MBMI builds economical custom buildings with ease. MBMI uses only the finest materials available to the metal buildings industry. Our staff is comprised of engineers, draftsmen, detailers and building designers with over 70 years of experience and know-how to put together the highest quality metal building in the industry. Please visit http://mbmisteelbuildings.com/
# # #