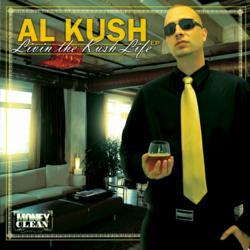 I wanna put a smile on people faces when they hear my music
West Palm Beach, FL (PRWEB) June 07, 2011
What does Livin' the Kush Life mean exactly? Well if one were to ask the up and coming South Florida rap entertainer Al Kush, "it's livin' on top of the world, livin' beyond your expectations, or to put it plainly, doing what you want to do without any hesitation. Everything you want with the means to get it." Which he plans on doing with his new EP Livin the Kush Life released on iTunes and Amazon this month.
Its hard nowadays to not know what kush means. But Al Kush wants everyone to know its more than just smoking, it's a way of life. Most fans noticed Al Kush as "Just a Gringo" from his first single from the EP about a white guy pursuing the interests of a latin girl. The EP has multiple genres of pop, rock, and R&B. Don't be fooled by this rap entertainer, accompanied with street smarts, he also has a degree; he's not just the average gringo from the south.
Al Kush is quickly becoming known as South Florida's independent front runner and gives listener that southern hospitality the south is known for. He loves hearing from the fans with positive feedback and will respond to each and everyone of them. As far as the dislikes, haters, or negative comments, he says they can kick rocks. Al Kush has a larger than life personality which is shown in his music, videos, and live performances.
Al Kush is like a chameleon. He is able to adapt to a variety of situations, and always emerge entertaining. Some people are comparing Al Kush to the artists Pitbull and Asher Roth. He is kind of like a comedic Pitbull was a comment a fan said about Al Kush at a concert. He was also called "the bastard child of Weird Al and Eminem" by The Real Radio Show in New York. Al Kush has a different style and commercial material that has created Kush fans of all ages. Livin the Kush Life'EP Volume 2 will be released before the end of summer. Al Kush is definitely a rising artist to pay attention to. Get Al Kush On Demand.
http://www.alkushmusic.com
http://www.youtube.com/alkushtv
http://www.facebook.com/alkushmusic
http://www.facebook.com/alkushfans
http://www.twitter.com/alkushmusic
###