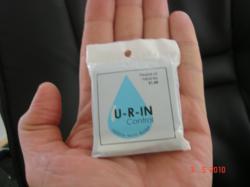 "When there is no where to go, go where you are with Go Guy the pocket urinal"
Pawtucket, RI (PRWEB) June 09, 2011
U-R-IN Control newly launched their product to target a larger group of males. Some males don't want to try urinary incontinence products because they feel like it's a sign of defeat. Once they start buying Go Guy, they will think, how did we live without a portable urinary bag. But remember that a lot of men may only need urinary relief temporarily. U-R-IN Control has found that they assist in many issues of bladder control.
Between the ages of 5 and 10, incontinence may be the result of a small bladder capacity, long sleeping periods, and underdevelopment of the body's alarms that signal a full or emptying bladder. This form of incontinence will fade away as the bladder grows and the natural alarms become operational. Go Guy is used by mothers who have sons with this issue. It was found that all kids have bladder issue some time in their life. As stated by Kathleen B.
"Before we found Go-Guy, our family road trips from New Hampshire to Florida were riddled with pee stops for the boys. It would seem like just 10 minutes after leaving one rest stop my other son needed to go. Why is it that they can't all go at the same time? The trip was slowed by so many stops it felt like it would take forever to get there. Now with Go-Guy, when I hear " Mom, I gotta go," it's as easy as whip it out of the glove compartment and pass it back. They fill it up and we throw it out at our next stop. We use them all the time! Even on short trips to soccer."
Certain inherited genes appear to contribute to incontinence. Incontinence itself is an anxiety-causing event. Strong bladder contractions leading to leakage in the daytime can cause embarrassment and anxiety that lead to wetting at night. Go Guy can help anxiety situations as Ralph Z. states.
"I am a delivery driver for one of those large delivery companies. Ever since starting there I have been embarrassed by need to constantly urinate, and not having a place to go. In extreme emergencies I'll use an empty cup or bottle, how humiliating. I saw the Go Guy product at a truck stop and bought a Cube. They are great I use them all the time. Now I have control and can go whenever I need to, I just go in back and close the door. Incredible idea!"
During urination, muscles in the wall of the bladder contract, forcing urine out of the bladder and into the urethra. At the same time, sphincter muscles surrounding the urethra relax, letting urine pass out of the body. Incontinence will occur if the bladder muscles suddenly contract or muscles surrounding the urethra suddenly relax. Bob thought he could control his bladder but found out one wintery night how important Go Guy is for all males and states.
"GO-GUY Is a life saver! Last night I was driving home on the highway in a heavy snow storm when all of a sudden all traffic came to a complete stop. That wasn't so bad ….for the first hour. Then I had to pee so bad I thought I was going to explode, my stomach was actually hurting, when I remember I bought one Go Guy at the gas station. Wow you have no idea how good that felt, I felt so good I didn't even mind the next 2 hours in my car."
Urine isn't something most people talk about. We barely give it more than a passing glance as it swirls out of sight down the toilet bowl. Yet bladder , incontinency, and urinary issues will constantly be addressed by all men some time in there life. Remember that when there is no where to go , go where you are with Go Guy the pocket urinal for mobile male relief.
Askgoguy.com
###