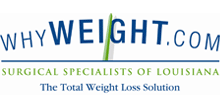 The key to weight loss and healthy lifestyle is nutrition. Sleeve gastrectomy gives patients control that allows them to make smart nutrition choices.
Covington, LA (PRWEB) June 07, 2011
The Surgical Specialists of Louisiana (SSL) at WhyWeight.com, The Total Weight Loss Solution, has become one of the busiest and most experienced clinics in the region for the gastric sleeve procedure, which results in immediate weight loss and resolution of obesity-related health conditions by removing the stomach's hunger center and providing portion control. SSL changed over 1,000 lives through sleeve gastrectomy in the last 5 years.
Similar to the well-known gastric bypass, the gastric sleeve allows patients to start losing weight right away, which results in the improvement of co-morbidities, such as type 2 diabetes, high blood pressure and sleep apnea, within the 1st week after surgery. However, unlike the bypass, sleeve gastrectomy takes SSL only 35 minutes to perform and requires fewer incisions with no intestinal re-routing, thus greatly reducing the recovery time and complication rates. And it really works – The Surgical Specialists have documented that their patients have maintained the weight loss of 50-70% now for 5 years.
"Surgeons love the gastric sleeve because it is a straightforward, brief procedure that can be done whether the patient had prior weight loss surgery or not, and it provides great results," says Dr. James Redmann of the Surgical Specialists of Louisiana. "Patients love it because it's very easy to understand, their hunger is gone – which is a whole new experience, and they get lasting results."
The gastric sleeve is so effective because of its two key elements. First, during this no-nonsense procedure, the weight loss surgeon removes the left side of the stomach, which is the hunger center and accounts for about 70% of the total size. The remaining 30% of the original stomach can only hold a little bit of food. As a result, the patient eats less, feels full sooner, and there is no more hunger drive.
Deke Bellavia, the co-host of SportsTalk and the "Countdown to Kick-Off" on WWL Radio, the New Orleans Saints Radio Network, lost 128 lbs since his gastric sleeve surgery. A former type 2 diabetic who also had high blood pressure, Deke stopped all of his medications a week after surgery. "My choice was very simple," Deke says. "I needed to get my blood sugar under control, and I heard that Surgical Specialists of Louisiana is the best weight loss surgery program in the country. My 2nd anniversary is June 18th, and I can now do a lot more with my life than ever before." Watch Deke's sleeve gastrectomy testimonial on the SSL website.
The gastric sleeve procedure is the result of many surgical technique and technology advancements over the past 30 years that helped ensure safety, as well as consistent and successful results. Just like with any other weight loss surgery, patients must follow the doctor's recommendations and take daily vitamins, protein and B12 supplements, because the stomach size is reduced and they are eating less.
"The key to weight loss and healthy lifestyle is nutrition, so our goal is to give patients control that allows them to make smart nutrition choices," adds Dr. James Redmann. "Sleeve gastrectomy accomplishes this through limiting both hunger and food portions. We believe that this weight loss surgery will become more popular in the future and might even become the most commonly performed procedure in the United States."
Most insurance carriers now cover the gastric sleeve procedure, and more carriers are expected to provide coverage in the future. For those considering a self-pay option, The Surgical Specialists of Louisiana offer an affordable cash price, which includes a year of post-op coverage.
About The Surgical Specialists of Louisiana
The Surgical Specialists of Louisiana (SSL) at WhyWeight.com, The Total Weight Loss Solution, is a team of nine board-certified bariatric surgeons and support staff who specialize in comprehensive weight loss and wellness for life. Founded in 2000 as an advanced bariatric surgery practice, SSL has offices in Covington, Lafayette, New Orleans and Slidell. Informational weight-loss surgery seminars are free to the public and held on a weekly basis at various locations. To learn more about SSL, the surgeons, services and seminars, please visit http://www.whyweight.com, connect with them on YouTube at http://www.youtube.com/WhyWeightDotCom, or call 985-234-3000.
###