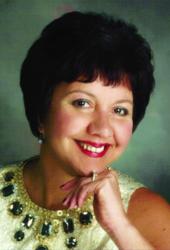 A shameless self-promoter, Patricia Bellomo says, "Selling books this way isn't for the meek and timid."
Detroit, MI (PRWEB) June 09, 2011
Writers love bookstores, but according to crime thriller author, Patricia Bellomo, bookstores are passive places to sell books. "Bookstores are ideal if you're a bestselling author," says Patricia Bellomo. "But I'm writing crime thrillers with mob-related themes, and I prefer to go directly to my fans. And I'm finding most of them in bars and restaurants."
According to Patricia Bellomo, this is a unique approach and won't work for every writer. First of all, it depends on the book's genre. Secondly, the author must be a shameless self-promoter, as this isn't for the meek and timid. "You can't be afraid to approach people, introduce yourself, and tell them about your book."
Patricia Bellomo doesn't go to restaurants with the sole purpose of selling books, but during the course of the evening—whether it be at table or, more preferably, while nursing a cocktail at the bar—it's easy to start talking. The fact that Patricia Bellomo shares her characters love of fine-dining is a plus, as many of the scenes in her novels unfold in the very places she patronizes.
For instance, Patricia Bellomo's main character, mobster Louie Morelli, favors Tramonti Italian Ristorante in Delray Beach. Coincidentally, Ms. Bellomo rates Tramonti as one of her favorites, and the restaurant has appeared in both novels and on her blog. She's also sold books to owner Gino Silvestri and some of his staff and customers. Two doors east of Tramonti on Atlantic Avenue is an eatery called Sazio's, and after explaining to the manager that Sazio's appears on page 240 of Louie Morelli's Daughter, Ms. Bellomo sold him a book as well as two more to ladies dining at an adjacent table: All this before the pizza.
Another restaurant Patricia Bellomo has sold books in and one that frequently appears on her pages is Bob Amante's Restaurant in Deerfield Beach. Here, being on a first name basis with the staff is a big help. But sometimes the restaurant or establishment isn't mentioned in her books, and it doesn't have to be. "I've sold books sitting outside the Colony Hotel in South Beach, at the pool at Miami's Eden Roc Hotel, in the parking lot of the Boca Raton Plaza Hotel, and at the Olive Garden off of I-75 at Exit 87 in Richmond, Kentucky."
In her Detroit area neighborhood, Patricia Bellomo has sold one thousand books out of Luciano's Restaurant in Clinton Township, three hundred of which were sold at a book signing last summer. Books have been sold at Da Francesco's Restaurant in Shelby Township, as well as at Andiamo's on Detroit's riverfront. Other venues include the Italian-American Cultural Center, a local library, and several breakfast and lunch type places. She's also selling books in Houghton Lake, a small resort town in northern Michigan that she and her husband frequently visit. In fact, she's stopping in at a local bakery on June 10 to sell books to a ladies club.
A bigger, promotional book-signing is scheduled for Tuesday, June 21 at 7:00 pm at ERNIE'S Restaurant in Clinton Township. Here, Patricia Bellomo, in conjunction with Sam Backos, owner of ERNIE'S, will be giving away a gift certificate for Ernie's Mediterranean Room. Ms. Bellomo is very excited about this event and is anticipating a big turnout.
Asked to name the oddest place she has sold a book, Patricia Bellomo replies, "The Federal Prison in Morgantown, West Virginia. But this wasn't a sold book. It was freebie to a friend serving time so I'm not sure this one counts."
Incidentally, Patricia Bellomo's books are available via bookstores and on Amazon.com. Purchases can be made through her website, which will link to your on-line retailer of choice. The author has recently down a round of radio interviews and is featured in the life/times section of the June issue of boca delray life magazine. She can be contacted via her website.
# # #