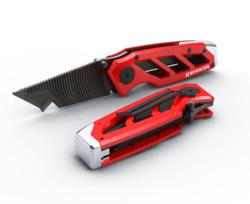 The Striker Score is a Backer Board Scoring Knife, File and Utility Saw and the safest, easiest way to cut fiber cement.
Mooresville, NC (PRWEB) June 08, 2011
Designed for professional flooring installers, siding installers, and extreme do-it-yourselfers the Striker Score offers innovative features no other tool has and allows for quick and easy scoring and snapping. It is also the recommended as the safest way to cut carcinogenic fiber cement. The folding, two sided hardened steel file features a Tungsten T-90 v-shaped carbide tip and integrated notching saw along the top edge. The Striker Score scribes deep, wide cuts with minimal force into fiber backer board, siding, roofing, linoleum, laminates and plastics. The aluminum ergonomic skeleton frame is lightweight and has a removable pocket clip, spring steel blade lock, and a striking cap to set nail pops. Best of all, the Striker Score is now available at the HomeDepot.com (direct link)
Contractors and installers can safely cut fiber cement indoors and in tight or remote areas without creating dangerous dust. The crosscut files located along both sides of the hardened steel blade allow the user to smooth out any rough edges and eliminate the need to pull out a file or rasp. Serrations along the blades top edge create a notching saw that makes quick work when cleaning out corners around plumbing, junction boxes, and HVAC openings.
The Striker Score also features a striking cap at the end of its sleek, ultra-light aluminum handle that acts like a hammer to allow the user to knock out cut pieces and set nails to the correct depth. The folding blade and removable pocket clip lets the tool fits easily on a belt, in a pocket, or in a pouch. A thumb stud is located on the fold out file to safely open and close the blade, and a spring steel lock to securely locks the blade open.
The Striker Score is currently available online at homedepot.com for $12.97 here (model #00102 Internet#202760822). For more information please call 1-704-658-9332 or go to the Striker Hand Tools website at: http://www.StrikerHandTools.com
Demonstration Videos of the Striker Score featuring product tester Jamie and showing Paul making quick work of a backer board install can be found online here. To download a zip file of press ready images please click the following link: Press Images
Researched, designed and tested by professionals, Striker® products provide users with functional, innovative solutions. They are engineered for reliability and performance in demanding work environments. All Striker® products are designed and engineered in the USA and are protected with design and utility patents.
# # #