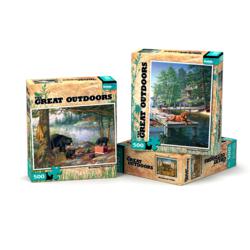 Buffalo Games puzzles are made of the hightest quality, and there are images for everyone to enjoy!
Buffalo, NY (PRWEB) June 08, 2011
To commemorate 25 years of fun, Buffalo Games, the makers of multiple award-winning party games and the leading manufacturer of adult jigsaw puzzles in North America, will unveil its newest party games and jigsaw puzzle lines at The Rally in Bend, Oregon, July 14-17. Party games Gotcha! and Truth Be Told will be available to play/purchase at the event, as will six new puzzle series including a 4000 piece, Photo Seek, Classic Peanuts, and a series each by renowned artists Bonnie Marris, Mort Kunstler, and C.F. Payne.
"We're excited to showcase our expanded line of jigsaw puzzles and our line of party games, one of which will be an industry first," said Paul Dedrick, president. "Exhibiting at The Rally gives us an ideal venue to showcase our line of party games and jigsaw puzzles, especially our lines like The Great Outdoors, Audubon, Peanuts, Coca-Cola, Folk Artist Art Poulin and others."
For 2011, the new series will include four images in a 1,000 piece count by Mort Kunstler, "the country's most-collected Civil War artist," and four paintings in the 500 piece count series by American caricaturist and illustrator C.F. Payne, best known for his series "Our America" exclusively on back covers of Reader's Digest.
Kunstler has painted everything from portraits of prehistoric American life to the odyssey of the space shuttle, but his reputation stands as the premier artist within the genre of the Civil War. His reputation for both accuracy and artistic mastery earned Kunstler a commission from the U.S. Postal Service in 1992 to do a painting of the Buffalo Soldiers which was issued as a stamp in 1994.
C.F. Payne is one of America's most recognized artists and during his career has been commissioned to paint countless politicians, entertainers and authors. His paintings have graced the covers of Time, Sports Illustrated, Rolling Stone, Esquire, and National Geographic, among others. Most recently, Payne provided the original illustrations for the first three "Molly" books in the American Girl series. Additionally, he has illustrated ten children's picture books, including The Remarkable Farkle McBride and Micawber, written by John Lithgow.
All Buffalo Games puzzles are crafted from materials that create a crisp and satisfying 'snap' as each interlocking piece is placed, with virtually no puzzle dust. Each Buffalo Games puzzle is made in our own U.S. plant and is fully guaranteed.
Buffalo Games is a multiple award-winning American manufacturer of party games and jigsaw puzzles. Popular board game titles include party games such as the all new, Truth Be Told, Likewise!, The T-Shirt Game, Last Word, and iMAgiNiff 10th Anniversary Edition. A full line of premium puzzles is also available featuring today's hottest licenses and fashionable themes including Coca-Cola, Peanuts®, Photomosaics®, Hautman Brothers, Darrell Bush, Art Poulin, William Wegman, Audubon™, Dennis Lewan and more in piece counts of 300, 500, 750, 1000 and 2000.
For more information, visit the Buffalo Games Booth721 or find us at http://www.buffalogames.com, 800-832-2331, and at http://www.Facebook.com/buffalogames.
###