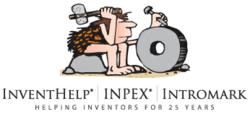 Pittsburgh, PA (PRWEB) June 08, 2011
InventHelp®, America's largest inventor service company, announces that one of its clients, an inventor from New Jersey, has designed a machine for cleaning unsanitary greasy, heavily soiled objects that users would prefer not to place in a conventional dishwasher. This invention is patented.
The "Utility Washer" would feature durable, large-diameter plumbing and multiple wash and temperature settings that are adjustable to clean a variety of highly unsanitary objects, as well as items that are soiled to varying degrees. This appliance could eliminate the need to wash such unsanitary items by hand or place inside a regularly used dishwasher or washing machine. The unit would be ideal for cleaning unsanitary bathroom and garbage cans, toilet brushes and litter boxes, dirty shoes, boots and tools, and greasy auto or barbecue accessories. According to the inventor, the Utility Washer would provide a green solution so a user can eliminate having to discard items, which only adds to the landfill problem.
The Utility Washer would consist of a heavy-duty washing machine with removable racks, oversized plumbing and multiple wash settings. The front-opening unit would be similar in appearance to a standard dishwasher and include a front control panel with dials for water temperature, water force, wash length, wash level and drying options. The large-diameter plumbing hoses and fixtures would prevent dirt, rocks or chunks of debris from obstructing the water flow. Optional accessories could include a tight-mesh basket with a lid for smaller items, snap-on "shooters" to spray water directly into items, interior clips or hooks for hanging rugs and footwear. Optional features could include a built-in attachment for washing vacuum cleaner hoses.
InventHelp® is attempting to submit the invention to companies for review. If substantial interest is expressed, the company will attempt to negotiate for a sale or royalties for the inventor. For more information, telephone Dept. 06-NWK-4520 at (800) 851-6030.