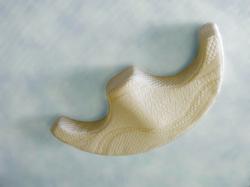 Agoura Hills, CA (PRWEB) June 07, 2011
Comfort Quest, Inc. announced the release and first shipping of The Side Sleeper Pillow. This is the first product launch for the start-up company which specializes in Post Surgery Pain Management products for women.
The Side Sleeper Pillow was designed specifically for surgical recovery. Most women experience breast pain after several types of chest surgery. The breast pillow will help patients after surgeries such as Breast Augmentation, Cancer, Open Heart, Mastectomy, or Lumpectomy. The Side Sleeper Pillow is essentially a breast support pillow.
The recovery pillow was created from necessity. The one common and popular complaint from women concerning breast/chest surgery has always been the pain involved in recovery. One of the most common questions asked in the days after chest surgery is, ""When can I sleep on my side or stomach?" Surgeons had no answer for post breast augmentation patients. Comfort Quest took the initiative to provide doctors and patients a breast pillow for post surgery pain management.
"The Side Sleeper Pillow was created to help diminish this common complaint about post surgery pain," said Ben Kass President of Comfort Quest, Inc. "There are a few products we found which make the same claim as our surgical recovery pillow, but they are nothing more than general everyday pillows trying to fit into this market. The Side Sleeper Pillow is the only product we know of which effectively provides pain relieve for women after almost any type of chest surgery. We believe women are searching the web for this type of product and not finding it.
"Most women have breast pain after surgery. This new product is designed to reduce breast pain and allow women to sleep comfortably and sleep on their side or stomach with a minimal of chest pain during recovery."
The breast support pillow will have a web and retail price of $59.97. Comfort Quest already has a network of over 200 plastic surgeons in the United States and Canada which will supply their patients with the breast pillows or direct them to Comfort Quests web site at http://www.mycomfortquest.com. The Side Sleeper Pillow can also be purchased from Relief Martt at http://www.reliefmart.com.
Comfort Quest, Inc, is a southern California based corporation located in Agoura Hills, CA. The company intends to continue to develop post surgery products for women. The Side Sleeper Pillow is the company's first product in this category.
For additional information:
Ben Kass (818) 665-2012 ben(at)mycomfortquest(dot)com http://www.mycomfortquest.com
President
Copyright© 2011 Comfort Quest, Inc.
###