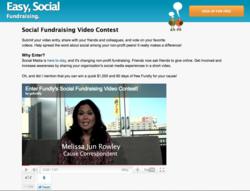 Social Media is here to stay, and it is changing non-profit fundraising.
Palo Alto, CA (PRWEB) June 08, 2011
Fundly, the provider of the largest social fundraising platform, is sponsoring a video contest to celebrate the release of its latest non-profit online fundraising platform. Non-profit organizations are encouraged to share their experiences with social media fundraising in a short video. All valid entrants will automatically receive two months of free social fundraising services from Fundly. One lucky organization will also win a $1,000 donation (and a $100 gift certificate).
Melissa Jun Rowley, a well known cause correspondent, is supporting the effort: "I am passionate about social media and its ability to initiate social change. Help spread the word about social media and how it can help raise money for your favorite cause: get off the couch and get reporting!"
Dave Boyce, CEO of Fundly explains why Fundly decided to launch the contest: "Social Media is here to stay, and it is changing non-profit fundraising. Friends now ask friends to give online. Through this contest we hope to elevate non-profit organizations' awareness and understanding of the fundraising potential for social media."
Some examples of non-profits which have already entered the contest include:
Bobby Bailey for the Global Poverty Project (with Jesse Brune from "Private Chefs of Beverly Hills")
"I have been eating for $1.50 a day to raise awareness for the billion people who are forced to live for under a $1.50 a day, every day. We are using YouTube videos to increase understanding about global poverty. It's a great way to get the word out."
Michael LaFemina for the Alliance for Climate Education
"This is what friends do – they help each other. Using Facebook updates we are getting hundreds of thousands of high-school students around the country to care about climate change and – maybe – to get my former high-school prom date to donate to a great cause. Maybe she will support us because she likes our work, or maybe just because she likes my status update and remembers all the gummy bears I brought her in high school. It starts with social media and it's a simple ask of friends asking friends."
Kristen Parrinello for Furnishing Hope
"With over half the world's population age 30 and younger, the millennial and digital native generation are more plugged in than any other generation. Therefore we see the value in investing in online fundraising. Developing an online community is a great way to find people who are passionate about our work."
How to Enter
1) Shoot a simple video (up to 90 seconds) telling the world about your favorite non-profit and how social media tools can help boost fundraising for your cause.
2) Upload your video to YouTube and tag it with "fundlysocial".
3) Let us know by filling out the form on http://www.fundly.com/landing/videocontest.
About Fundly
http://www.Fundly.com
Based in Palo Alto, CA, Fundly was launched in 2009 and has over 400 cause-based organizations as customers (non-profits, political organizations, and educational institutions). Fundly has been growing 600% year-over-year and has helped clients raise more than $211 million to date. Current customers include Silicon Valley Education Foundation, American Red Cross Silicon Valley Chapter, Boise State Athletic Association, and Special Operations Warrior Foundation. The company has won multiple awards, including three Pollie Awards, two Reed awards, and one Silicon Valley Emerging Technology award
###