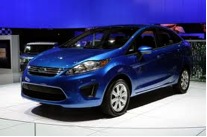 Manitowoc, WI (PRWEB) June 08, 2011
The sales professionals at Maritime Ford - the premiere Ford dealership in Manitowoc and surrounding areas - really think the new Ford Fiesta is a work of art … and fashion. This was backed up by real life events recently in India.
Illustrious fashion designer Swapnil Shinde recently presented the 'Ford Fiesta Futuristic Collection' at the Fiesta Café in Select Citywalk Mall, New Delhi. The 'Energy in Motion' collection was inspired by Ford's Kinetic Design philosophy - that exemplifies bold and futuristic styling of its all-new Fiesta sedan.
The line of clothing displayed an international touch that matched the Ford Fiesta's global DNA. With a clever use of cues inspired by the car's underlying design theme, Swapnil's creativity was stimulated by the aspects of the car, including flowing lines from the overall design, a bold color palette, and smart cuts from the car's dynamic spirit.
Swapnil really managed to bring alive the striking features of the Fiesta. His creation showcased innovative designs that electrified the runway.
Talking about the collection, designer Swapnil Shinde said "The new Fiesta brings with it a refreshing and energetic touch to design and style. The thought of translating the car's bold kinetic design theme into my creations was a true inspiration. It is great to have designed a collection that's a tribute to the stylish and innovative Fiesta which has already gained high interest even before its official launch."
Established in 1995, Ford India is a wholly owned subsidiary of Ford Motor Company, a global automotive industry leader. Ford India manufactures and distributes automobiles and engines made at its modern integrated manufacturing facilities at Maraimalai Nagar, near Chennai. The company's models include the Endeavour, Fiesta Classic and the Figo.
While India is thousands of miles away, local consumers who are interested in the "high fashion sense" of the Ford Fiesta just need to stop by Maritime Ford - the premiere Ford dealer in Manitowoc and surrounding areas. Their sales team can answer questions about the Fiesta or any of the other great new and used Ford vehicles they have on the lot.
###