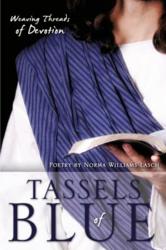 Longwood, FL (PRWEB) June 08, 2011
Tassels of Blue ($18.99, paperback, 9781613790403) by Norma Williams Lasch is a collection of poetry designed to weave together the devotion to God, belief in His holy word and victory for every situation. Lasch explains that the tassels represent God's Laws and Statutes and, allegorically, should be worn close to our hearts as a reminder of His unfailing love and grace. Tassels of Blue relays that God's healing power is still at work today and is available to all who call upon Him, not only for physical health, but for healing of hearts, minds, finances, and relationships.
In an ever-changing world and fast-paced technology, God is always the same; trustworthy, stable, always awake and alert to our call. Lasch hopes to inspire readers to not to quit or give up on God, to know that suffering is part of God's plan to refine us through fiery trials so we will come forth as gold, prepared for the Master's use. The poems in Tassels of Blue will unlock secrets of the heart intended to encourage readers to desire a more intimate time with the Lord in order to hear His voice and respond when He calls. Lasch's motivation is to help people fall in love with the Holy Bible; learn that Jesus Christ would be more than their savior and salvation - but also their healer, deliverer, provider, friend and Prince of Peace.
Tassels of Blue has allowed Norma Williams Lasch to share over five decades of hopes, dreams and sorrows, giving the Lord Jesus Christ all the Glory. As a Contributing Author of several Anthologies, other Publications include Poetry published in the Barrister Magazine, The County News and Views, The Country Register, the Troy Record, and Quill Books. Norma and her husband Bill worship the Lord at New Hope for Life in the rural Town of Nassau, New York where the Holy Spirit has inspired many of her Poems and Songs of Praise included in this Collection.
Xulon Press, a division of Salem Communications, is the world's largest Christian publisher, with more than 8,000 titles published to date. Tassels of Blue is available online through xulonpress.com/bookstore, amazon.com and barnesandnoble.com.
###