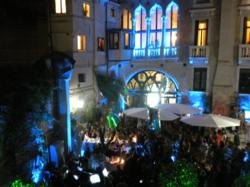 We handed Eve Italia the equivalent of making Michael Crichton's "Jurassic Park" into a movie
Venice, Italy (PRWEB) June 08, 2011
Famous California artists stand out in California so when they descended upon the Grand Canal in Venice, Italy as part of the 2011 Art Biennale's Grand Opening, it was truly a history-making event. Three days of red-carpet affairs, art world glitterati and over 150 stellar artworks redefined Vernissage in a way that will be forever hard to match. Artists Laddie John Dill, Ron Cooper, James Turrell, Peter Alexander and Billy Al Bengston not only participated, they brought retro-cool style and edge to the tradition and history of Venice.
Planning the elaborate parties started months ago by Eve Italia who coordinated a series of "firsts" to create the most memorable party on the Grand Canal in commemoration of the 100-year anniversary of the naming of Venice Beach, California; the milestone event that brought the Venice in Venice show to the Biennale.
Eve Italia conducted the creative electricity of co-curators, Tim Nye and Jacqueline Miro, who imported California beach culture, its famous artists and their works to illuminate the mind. "We handed Eve Italia the equivalent of making Michael Crichton's "Jurassic Park" into a movie. This included a massive construction project; renovating a 15th century palazzo into five pristine white boxes; acquiring permits to put two neon-colored gondolas on the Grand Canal; a rock concert and skateboard event in Campo San Polo, where there is still a 15th century plaque on the wall stating "no ball playing"; and an elegant dinner for 400 with concert headlined by Courtney Love, supported by an 18-piece Venetian orchestra. From the smallest lagging detail to the most massive maneuvering, Eve Italia executed flawlessly," said Tim Nye, co-curator of the event.
The creative electrical current ran strong over the course of three days, starting June 1, with hot rod-painted gondolas cruising down the Grand Canal to Palazzo Contarini dagli Scingni, by artist Billy Al Bengston, a Venice, California beach culture and art icon. What may look like an everyday sight on a California freeway, literally rocked the tradition of black-only gondolas. The city made an exception in the name of art. In the evening, the kick-off party literally lit up the night as Courtney Love sang at the Palazzo, accompanied by a Venetian orchestra, and generated non-stop applause after belting out, "Under My Thumb" and "The Sweet Life."
The following day, California beach culture took a sweet ride to Venice for a once-in-a-lifetime happening. Two quarter-pipe skate ramps were installed at Campo San Polo for Venice Beach, California's most beloved skate gods, Steve and Alex Olson, who put on a gravity-defying show. This is by no means a usual sighting in Italy and the huge crowd shouted their enthusiastic approval for the skaters and following R&B concert.
Marina Snow, Founder and CEO of Eve Italia, says, "Coordinating an event of this caliber and international scale raises the bar and push the limits, which I love to do. Reopening the Palazzo Contarini Dagli Scigni after a 10-year renovation, bringing skate and beach culture to our city and designing elaborate parties with A-list entertainment is the reason I am in the event-planning business."
In addition to planning cultural events and parties, Eve Italia specializes in corporate events, private parties, weddings, eco tours, and more. A free international event-planning guide is available on their website.
About Eve Italia
Established in Venice, Italy in 2010 by Marina Snow, CEO, Eve Italia is a young, dynamic event-planning company specializing in contemporary solutions for corporate events, private parties and weddings that require complete attention to detail with an eye for creativity and innovation to shape a standout event.
Marina brings over 20 years experience working in the IT industry in Silicon Valley, specializing in the mobile telephony and high-tech areas. Her responsibilities over the years have included managing projects, teams and events with a focus on delivering the highest quality for her clients. With this background, Marina speaks the language of the IT industry, in addition to being fluent in Italian and the only native-English-speaking event coordinator in Venice.
Whether the goal is to increase market awareness, develop a client base, create stronger team spirit or produce a memorable private party or wedding, Eve Italia will make it happen on time, on budget and, most importantly, on the mark.
###