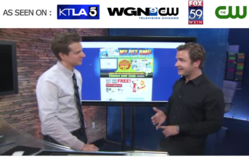 "Pet Driver's Licenses are more than just a novelty, they can provide vital information to reunite your with your lost Pet"
Los Angeles, CA (PRWEB) June 08, 2011
Rich DeMuro, KTLA's Tech Reporter, interviewed Mike Scherenberg of http://www.MyPetDMV.com, to showcase the latest high-tech website that creates personalized pet ID tags that go a long way from being just a novelty item.
Dogs gathered across Orange County to show off their new Pet Driver's License ID tags. "Why does your pet need a Driver's License?" asked Rich.
Mike Scherenberg responded with the scary fact that almost 4 million pets are lost each year, few having the proper identification tags on them that would help to find and rescue them. MyPetDMV allows pet parents to easily design and personalize a state Driver's License and Collar ID online for any of the 50 states.
"MyPetDMV allows the creation of Personalized Pet IDs for all 50 states. This creates a fun way for Pet owners to take their Pet's picture, upload it, and see a free proof online in minutes, while at the same time providing a valuable ID tag for their pet," said Scherenberg.
The Pet ID creation process is easy:
1. Visit http://www.MyPetDMV.com
2. Click the red "Click to Design Now" button
3. Enter all your pet's information along with a cute pet photo
4. View an online proof in seconds
MyPetDMV also wants to give back to Pet Rescue groups and Pet organizations. Any organization can request a free media kit from our site. Visit MyPetDMV and click the Giving Back link for more information.
An online video version of the interview is available on the MyPetDMV.com web site along with http://www.ktla.com/technology.
###