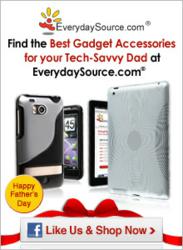 We put together this gift guide from EverydaySource.com to help our customers get Father's Day gifts that Dad will not only use, but also enjoy.
El Monte, CA (PRWEB) June 07, 2011
As Father's Day quickly approaches, many will search high and low for a gift to show their father just how special he is. While most people begin the "Gift for Dad" mission with the best intentions, it can be quite the challenge to find a gift for the one person who never asks or needs anything.
This year, many Dads will get a much needed technology update from their kids. For some, a brand new smart phone will replace an ancient cell phone. For others, an iPad 2 will take Dad from being outdated to being on the cutting edge.
Brand new electronics are sure to be a big hit this Father's Day, and no electronic gift would be complete without the accessories to go with it. After all, what dutiful kids would give their Dad a new iPad 2 and not include the iPad case?
With over 47,000 gadget accessories, EverydaySource.com offers the best 'companions' to any gadget gift for Dad.
"We all know that Dads like gifts that they will actually use," EverydaySource.com CEO, Jack Sheng explains, "We put together this gift guide to help our customers get Father's Day gifts that Dad will not only use, but also enjoy."

For Dad's new TV- Dad will get hooked up to watch his favorite sports, movies and TV shows with premium HDMI cables, AV cables and more.
For Dad's new iPad or other tablet-he can keep it like-new with leather case, screen protectors, and more.
For Dad's new Cell Phone- EverydaySource.com carries cell phone accessories for every major brand. Dad can keep his phone protected and looking good.
For Dad's new iPod-He can rock out with portable speakers, ear buds, arm bands, and more.
For Dad's new Camera-Dad can keep his camera charged and protected and stop playing camera man with a mini retractable camera tripod.
Tools and fun gifts for Dad- EverydaySource.com carries a robust collection of other practical gifts such as USB reading lights, 20-in-1 screw driver, webcams, digital tire gauge, GPS accessories, and more.
Visit EverydaySource.com for more gadget accessories and other gifts for Dad. For a limited time, the cell phone accessories retailer is also offering 10% off site wide for Father's Day.
With over 47,000 compatible listings in 7 product categories, EverydaySource.com is a one stop shop for all accessories for cell phones, computers, MP3, video games, digital camera, home theaters, printer/ink toner, and more. To help customers save, EverydaySource.com offers everyday deals, and frequent site wide promotions.
EverydaySource.com is currently the #3 globally ranked eBay seller with over 1.7 million positive feedbacks. Founded in 2000, EverydaySource.com offers high quality electronic accessories at bargain prices and hassle free shopping experience with 100% Money Back Guaranteed.
###