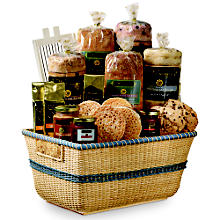 Spoil Dad this year with a gourmet Father's Day gift baskets, filled with delicious breakfast goodies.
Medford, Oregon (PRWEB) June 07, 2011
Wolferman's, proud purveyor of specialty foods for over 100 years, offers tasty treats with a variety of Father's Day gift baskets and gift ideas. Choose from breakfast gift baskets, gourmet pastries or our signature English muffins.
Spoil Dad this year with a gourmet Father's Day gift baskets, filled with delicious breakfast goodies. Our Pancake & Waffle Banquet is sure to satisfy any Dad's craving for a hearty breakfast. Enjoy fluffy pancakes or waffles in three different flavors – buttermilk, chocolate chip or cinnamon bun. Top with our maple syrup, apple butter or strawberry preserves to create the perfect breakfast feast. Father's Day brunch is sure to be a hit with this breakfast gift baskets from Wolferman's.
Save time and make Father's Day brunch a breeze with Wolferman's Breakfast Batter Bowl. This unique gift puts a fun spin on our traditional Father's Day gift baskets and makes pancakes easy – just combine the pancake mix and water in our special batter bowl and stir. Dad can choose between buttermilk and chocolate chip pancakes on his special day, served with our Tiffin blend coffee or rich chocolate cocoa. Say thanks to a wonderful dad by whipping up a gourmet breakfast in minutes!
Can't be with grandpa on Father's Day? Send love to grandfathers with one of our Father's Day gift baskets. The Country Bacon Sampler is a great choice for dads who love their meat. They'll expand their breakfast meat horizons with sliced Canadian bacon, old-fashioned bacon and peppered country bacon. Each slab of center-cut bacon is carefully selected and cured to lock in flavor and tenderness. If Dad has a big appetite, try our Best of Wolferman's Supreme Gift Basket. This Father's Day brunch in a basket is packed with everyone's breakfast favorites. Dad can indulge in three varieties of our signature English muffins, two types of English muffin bread, crumpets, scones and toppings. Brighten Dad's special day and make a memorable brunch with one of these great Father's Day gift baskets.
Wolferman's assortment of Father's Day gift baskets doesn't stop here – browse through the pages of tasty bakery items and breakfast gift baskets on the Wolferman's website to find the perfect gift for Dad.
Remember to order all Father's Day gifts before the shipping cut-off dates to ensure timely arrival. The last day to order gifts using regular shipping is June 10th; the last day for 3-day express is June 14th by 10am PST and the last day for next day delivery is June 16th by 10am PST.
All orders are backed by a 100% guarantee. If those who receive our gifts are not fully satisfied, Wolferman's will provide either an appropriate replacement or a full refund. Visit http://www.wolfermans.com for more information.
For the latest deals and specials from Wolferman's, follow us on Twitter, Twitter.com/Wolfermans.
About Wolferman's
Founded in 1888, Wolferman's is a direct marketer and wholesaler of premium specialty foods and gifts, such as English muffins, tea breads, breakfast pastries, jams and other specialty products. The Wolferman's® catalog also includes a wide variety of gift baskets, gourmet breakfast gifts, gourmet pastries and honey and fruit spreads for every occasion. The Wolferman's® specialty English muffins include the 1910 original recipe, multi-grain & honey, chocolate chip, pumpkin spice and more. The Company started making its signature Wolferman's® English muffins in 1910 and, today, sells its products primarily through its catalog and http://www.wolfermans.com, as well as through foodservice and retail channels. Wolferman's is a Harry & David company which includes the Cushman's brand.
(Harry & David and Wolferman's are DBAs of Harry and David.)
###