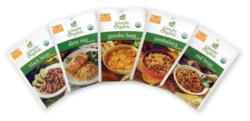 All of our new Simply Organic mixes require only two or three common ingredients and can take less than ten minutes to prepare, so they're easy, convenient and relatively inexpensive.
Norway, IA (PRWEB) June 07, 2011
Capitalizing on the increasing interest in U.S. southern regional cuisines, Simply Organic® is capturing the flavors of The French Quarter by adding five new gluten-free seasoning mixes – Red Bean, Black Bean, Dirty Rice, Jambalaya, and Gumbo Base. All of Simply Organic's New Orleans-style mixes are third-party certified as organic, kosher, gluten-free and are also vegan.
Simply Organic Red Bean Seasoning Mix provides the characteristic flavor of the Louisiana Creole dish traditionally served on Mondays. "Our delicious seasoning blend, which includes black pepper, oregano, parsley and a dash of cayenne, tastes great every day of the week," remarks Kory Kazimour, Senior Brand Manager for Simply Organic Simply Organic. Black Bean Seasoning Mix melds spices — including onion, cumin, garlic and roasted chili powder — to create a taste sensation. "More savory than spicy hot, this would be an excellent seasoning mix for vegetarian dishes."
Simply Organic Dirty Rice Seasoning Mix features the trinity of Cajun cooking – onions, bell peppers and celery. "This savory threesome provides the base for a dish so delicious that you might want to dress it up and serve it as a main dish by adding meat or fish," notes Kazimour.
Simply Organic Jambalaya Seasoning Mix invites you to throw everything but the kitchen sink in the pot — just like cooks do in the Big Easy. "This lively seasoning makes every vegetable and meat taste bold and zesty," says Kazimour. The Simply Organic Gumbo Base Seasoning Mix, an enticing combination of onion, paprika, garlic, oregano, and other flavorful spices, delivers the taste of New Orleans directly to your kitchen. Kazimour adds, "When we were working on both these recipes, we made sure our review panel gave high marks whether served with fresh seafood, chicken or sausage."
"All of our new Simply Organic mixes require only two or three common ingredients and can take less than ten minutes to prepare, so they're easy, convenient and relatively inexpensive," points out Kazimour. Value priced at $1.69 per packet the cost per serving is still less than two and a half dollars, including the organic ingredients and the suggested meat."
Mixes are gluten-free, too
The new flavors complement Simply Organic's other gluten-free, seasoned mixes, such as its popular Southwest Taco, Fajita, and Sweet Basil Pesto Sauce mixes. "Whether you need to, or simply choose to, follow a gluten-free diet, taste still matters," Kazimour comments. The new Simply Organic New Orleans-style seasoning mixes are free of hydrolyzed vegetable protein, modified food starch, hydrogenated oils, and genetically engineered ingredients. With a 24-month shelf life, consumers can conveniently store the seasoning mixes in the cupboard for future use.
With $2.5 billion in gluten-free product sales last year, most projections point to a doubling of that number by 2015, according to a recent report by Packaged Facts: Gluten-free foods and beverages in the U.S.
Most natural and organic retailers will have the new Simply Organic gluten-free seasoning mixes in their stores in the coming months; however, consumers can purchase them now by calling toll-free at 1-800-669-3275 or online at http://www.simplyorganicfoods.com.
Note to editors: Product samples and photos are available upon request.
Simply Organic®
Simply Organic is an all-organic brand from Frontier Natural Products Co-op, offering an extensive and growing selection of certified organic spices, seasonings, baking flavors and mixes while supporting organic agriculture around the globe. By providing the best available organic seasonings and donating one percent of sales to organic agriculture and education, Simply Organic genuinely offers "Simply Healthy Living. Simply Great Taste." Find out more about Simply Organic at http://www.simplyorganicfoods.com.
Frontier Natural Products Co-op™
Founded in 1976 and based in Norway, Iowa, Frontier Natural Products Co-op™ offers a full line of natural and organic products under the Frontier, Simply Organic®, Aura Cacia® and Aura Cacia Organics® brands. Products include culinary herbs, spices and baking flavors; bulk herbs and spices; and natural and organic aromatherapy products. Frontier's goal is to provide consumers with the highest-quality organic and natural products while supporting and promoting environmental and social responsibility. For more information, visit Frontier's website at http://www.frontiercoop.com.
###