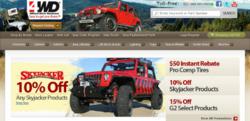 Columbiana, OH (PRWEB) June 08, 2011
4Wheel Drive Hardware, the nation's largest mail order and Internet distributor of Jeep parts and accessories, has launched a redesigned version of its website at 4WD.com. The improved site streamlines the shopping and fact-finding experience for Jeep owners by way of a modernized layout, improved navigation, and advanced filtering capabilities. Now it's easier than ever to find specialized Jeep parts at affordable prices.
4Wheel Drive Hardware makes a practice of passing on product discounts and special deals to consumers whenever possible. The most compelling of these promotions are displayed prominently on the new homepage, and Jeep owners can easily click to a listing of all current deals on the site. The new homepage also gives Jeep owners quick access to popular product categories and brand names, company news, and upcoming events. Users can easily check the schedule for the popular Truck and Jeep Fest events, read about the Crawl to Cure Cancer project, and find out how 4Wheel Drive Hardware celebrated the Moab Easter Jeep Safari.
The site's navigation has been overhauled as well. A static, vertical navigation menu has been replaced with a larger, horizontal drop-down menu that groups products and information into intuitive categories. This allows users to browse all product categories without scrolling. Jeep owners can also quickly view tailored search results by selecting the category they need (such as Jeep replacement parts) and specifying some basic vehicle information. The search results are then specific and relevant, so that users find the right information, fast. Additional filters allow Jeep owners to sort results further by cost, product feature, or brand name. As well, every page contains links to important shopping information, such as customer support numbers, contact information, site policies, and the store locator, catalog request, and account login pages.
4Wheel Drive Hardware offers competitive pricing on Jeep tops, tires and wheels, lift kits and suspensions, performance products, exterior body pieces, and other Jeep parts and equipment. For more information, visit 4WD.com or call (800) 555-3353.
About 4Wheel Drive Hardware: About 4Wheel Drive Hardware: 4Wheel Drive Hardware has been a leading provider of Jeep tops, lift kits, tires, and other Jeep parts and accessories for more than 30 years. Get the products for any personal Jeep project at 4WD.com.
###