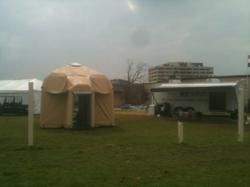 Shelter is an essential aspect of surviving the elements following a disaster and as a ready-to-use, stackable, fork-lift friendly shelter, Life Cube is ideally suited to meet the commitment of first responders to deliver aid within hours instead of days.
Santa Barbara, CA (PRWEB) June 08, 2011
Life Cube, Inc., a developer and manufacturer of inflatable and instantly deployable survival shelters, has secured a new round of venture funding company officials announced today. Details about the size of the investment and the source of the funds were not disclosed, except that it was from a private Canadian investment firm. Life Cube Inc. was founded is 2009 and designs several versions of the Life Cube emergency shelter which are manufactured in Santa Barbara, Calif. and central Florida.
Founder of Life Cube, Inc., Michael Conner said the capital will be used to underwrite several production runs of the latest generation of the military-grade, weather-resistant shelter which were recently exhibited at a United Nations disaster preparedness conference in Geneva, Switzerland and a FEMA (Federal Emergency Management Agency) National Level Exercise in Missouri.
"This funding comes at a particularly opportune time because organizations involved in emergency response are increasingly focusing on preparedness instead of reacting after disaster strikes, an approach that the Life Cube is ideally suited to support," Mr. Conner stated. "Government agencies, NGOs and humanitarian aid groups are uniformly adopting a strategy of pre-positioning food, water, medicine and shelters in areas most likely to need help due to extreme weather, earthquake or civil strife which we believe will result in thousands of orders for various versions of the Life Cube. European agencies and stakeholders in the developing world are leading the way in this regard and that mindset is spreading into domestic emergency preparedness programs."
According to Mr. Conner, a wide spectrum of military contractors, emergency responders and humanitarian aid experts that have seen the Life Cube in action at recent conferences and events have been highly impressed with its life-saving, quick response potential. Just last week, he added, a Life Cube shelter was deployed in Joplin, Missouri to provide shelter and assistance to aid workers at St. John's Regional Medical Center as they tended to victims of the powerful EF-5 scale (greater than 200 miles per hour) tornado that tore through the city of 50,000 on May 22nd.
"Because shelter is an essential aspect of surviving the elements following a disaster, a ready-to-use, stackable, fork-lift friendly shelter in the field is ideally suited to meet the new commitment of first responders to deliver aid within hours instead of days," said Pamela Voge, Director of External Affairs for Life Cube, Inc., "Each model of the Life Cube ships fully supplied in a rugged cube-shaped container and can be air-dropped or delivered on a pick-up or flatbed truck. When deployed the containers convert into a hard surface floor and the Life Cube can house up to five people for five days with food and water without outside assistance. Our goal is to have Life Cubes within a three-hour flight or half-day drive from any place on the planet that has been hit by disaster and where people are in need."
Designed and manufactured completely in the U.S., the Life Cube shelter comes complete with a self-sufficient power system, Global Positioning System, water filtration devices, propane cook top, first aid kits, ready-to-eat meals (MREs) and a wide variety of essential survival supplies. Mr. Conner said he invented his "shelter in a cube" idea after witnessing the devastation wrought by Hurricane Katrina in New Orleans and the Gulf of Mexico region and the massive Kashmir earthquake in Pakistan, both of which occurred in 2005 and left a wake of death with millions of victims without shelter for weeks or months.
Recently Attended Conferences:
•SAFE Association Symposium
•Combat Air Forces Agile Combat Support
•United Nations Global Platform for Disaster Risk Reduction
•Federal Emergency Management National Level Exercise
•International Rotary Conference
Upcoming Demonstrations:
•Aid and International Development Forum
•Global Risk Network's Summit 2011
•World Conference on Disaster Management
•International Association of Emergency Managers 59th Annual Conference
Information about Life Cube, Inc. and a demonstration of the rapid deployment capability of the Life Cube are available for display on any mobile device (requires Adobe PDF Reader) at http://www.quietguides.com. Additional information is available at http://www.LifeCubeInc.com or by contacting Life Cube, Inc. at +1 805-426-5400 or e-mailing info(at)lifecubeinc(dot)com.
About Life Cube, Inc:
Founded in 2009 and based in Santa Barbara, CA, Life Cube, Inc. is a specialist in rapid deployment shelter technologies. The genesis of the Life Cube system began when entrepreneur Michael Conner witnessed the devastation in 2005 wrought by Hurricane Katrina and a massive earthquake in Pakistan. Watching humanitarian efforts, it became clear to him that a quickly deployable, portable shelter could be enormously helpful in providing life-saving shelter and supporting on-the-ground operations by aid workers. Mr. Conner immediately committed himself to invent an entirely new class of transportable shelter – one that would combine the advantages of a canvas tent, the ruggedness and utility of a trailer, with the speed and expandability of breakthrough inflatable technology. The result is the Life Cube. Today Life Cube, Inc. is a leading designer, manufacturer and distributor of innovative air-beam shelters for a variety of markets and uses.
Media Contacts:
Life Cube, Inc.
Nick Pedersen
Business Development Manager
Life Cube, Inc.
Mobile: (805) 403-6114
Office: (805 426-5400
E-mail: nick(at)lifecubeinc(dot)com
Website: http://www.lifecubeinc.com
# # #