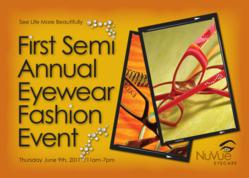 A friendly and low-pressure boutique atmosphere, with an extensive collection of designer eyewear
Nashville, TN (PRWEB) June 07, 2011
June 9th Sale to Feature 25 – 75% Off All Frames & Lenses, Live Music & Wine Tasting
Nashville's NuVue Optical & Eye Care announces a day of fashion, fun, live music by J & Tiff, wine tasting and big discounts on designer eyewear. The event starts at 11:00 a.m. and will run until 7:00 p.m. Featuring 25 to 75% off such designers as Vera Wang, Coach, Johnny Varatos and OGI as well as NuVue's entire line of fashionable frames. The discount also applies to all prescription lenses. Nashville Optometrist Dr. David Gavami and his staff will be available for eye exams, custom fittings and eye wear consultations.
NuVue Optical & Eye Care features a friendly and low-pressure boutique atmosphere. Come in and browse NuVue's extensive collection of designer frames before sitting down with one of the friendly staff to discuss eyewear needs and being treated to a custom-fitting. All frames and lenses are backed by a 12 month warranty. In most cases, same day, on-site lens creation for most single-vision prescriptions is available.
Jerri Gavami is available on a walk-in or appointment basis to help find the frames that best fit each individual fashion sense and style. Enjoy the relaxed, no-rush atmosphere while given individual time and attention to ensure complete satisfaction with each eyewear purchase. The five-star rating on CitySearch is a testament to the personal service offered by NuVue Eyecare.
NuVue's designer frame collection includes such names as Coach, FYSH, Gucci, Kensie, Klik, LaFont, Lucky Brand, Tifosi, BeBe, PEZ, Goldfinch, Jalapenos, Kate Spade, Porshce Design and Jones New York.
Help NuVue Optical & Eye Care Support a Very Special Nashville Animal Rescue
NuVue Optical friends, the Slemp family, recently rescued Manny, a Lab, Pit Bull and Great Dane mix over the Easter weekend. Manny was found near-death and suffering from Parvo as well as a severe tick infestation. With much love, time and money the Slemp family nursed Manny back to health.
Manny is now a happy member of the Slemp family, however still owes some big medical bills. As the owners of several rescue pets themselves, David and Jerri Gavami understand such love for an animal. NuVue will be matching donations at the June 9th extravaganza to help the Slemps pay Manny's vet bill.
NuVue Optical & Eye Care is located just South of Lennox Village at the corner of Sugar Valley Drive and Nolensville Road. Please call with any questions or further details on the Thursday, June 9th sale event. Our phone number is 941-2020 or you may visit us online at: http://nuvueeyecare.com/.
Other discounts, coupons and insurance benefits do not apply during this sale.
# # #