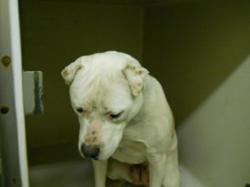 Social Media allows us to share these death row pets with millions of people, and it is working, they are being Adopted!
Meridian, MS (PRWEB) June 07, 2011
Pet Pardons is a facebook app that was launched on December 24th 2010. The app enables anyone to submit pets that are located in shelters for free, and then enables anyone else to promote those pets by clicking the "Advocate" button which posts them directly on to your Wall. Most Pet Pardons pets are on Death Row & are scheduled to be killed (some within days), however many pets from No-Kill Shelters & Rescues are listed also.
"When we started Pet Pardons we would have been happy if just one pet was saved" said Pet Pardons Co-Founder Ashley Owen Hill. "The fact that today our community has assisted in saving the lives of over 3000 Pets is just incredible" she said.
When posting a pet to the app all relevant information for a potential Adopter is collected, then a unique Profile page is created. The pet's Profile page display's information including photos, Name, Kennel ID, Shelter address & contact information, as well as general & medical history and of course details on the pet's personality. Pet Pardons then drives traffic to these Profile pages resulting in the pets being shared across facebook.
"Many people will not visit an animal shelter because they think they will find them too depressing, which means that many of these shelter pets have no chance of being Adopted and will therefore ultimately be killed. We wanted to change those odds, along with the perception of the types of pets who live in these shelters, by bringing those pets to facebook where they would have the potential to be seen by a very large audience." said Hill. "America's shelters are filled with so many wonderful pets, from purebreds to mixed breeds, we want people to see their faces and Adopt instead of buying from a breeder or pet store." said Hill.
Millions of pets are executed every year in American shelters because there is a huge oversupply of pets and not enough good homes. Pet Pardons also has a facebook fan page with over 124,000 fans, through which it aims to promote the app and also to educate and inform people about why these pets are in danger to begin with.
"If we really want to end the killing & the suffering then we must all take responsibility, and must all take action. We must embrace Adoption and stop buying pets. We must shut down the puppy mills and the breeders. We must also Spay/Neuter our pets, and finally we need to make arrangements for our pets in case we fall upon hard times. These are the issues we promote and discuss on our fan page." said Hill.
The Pet Pardons Goal: To End the Killing & No More Homeless Pets by January 1, 2015.
About Pet Pardons
Pet Pardons is privately owned & based in San Diego, California and Meridian, Mississippi. Founded & operated by Ashley Owen Hill & Chris Hoar. Ashley also runs her own Rescue "Lucky Dog Rescue" in Meridian Mississippi, and has been involved in animal rescue for over 20 years. Chris has served on the Boards & Advisory Committees of several major animal Charities over the last 12 years.
Pet Pardons facebook App: http://apps.facebook.com/petpardons/
Pet pardons facebook fan page: http://www.facebook.com/petpardons
For more information contact Ashley Owen Hill:
ashleyowenhill(at)gmail(dot)com
601-527-3535