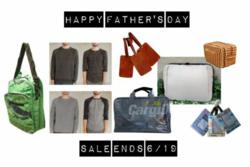 Sometimes we forget to ask the men in our lives to join the fight for fair treatment
San Francisco, CA (PRWEB) June 06, 2011
Father's Day is June 19th, 2011 and SET Boutique is offering fair trade gifts for dads of all ages. SET stands for Support Ethical Trade and the e-commerce website retails fair trade and eco-friendly clothing, accessories, and home goods. Although the website primarily targets women, owner Lindsay Sullivan wants to make sure men feel welcome too. Sullivan explains "sometimes we forget to ask the men in our lives to join the fight for fair treatment. Our purchasing power is our strongest weapon because when consumers choose ethically produced products the market will adapt to our demands".
To showcase gifts for the opposite sex SET Boutique is offering a Father's Day Sale until June 19th, as well as adding express shipping options for last minute shoppers. Recommended gifts are travel bags, luggage tags, and laptop sleeves made from Mitsubishi car seats. The most popular items have been the eco-friendly fleece and henley due to their soft fabric. A portion of the polyester content is made from recycled plastic bottles.
The finishing touch to this year's Father's Day gift is a complimentary donation. SET Boutique's Giving Back program gives a $5.00 donation to a non-profit for each purchase of $20.00 or more.
###