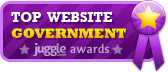 Our main goal is to offer our citizens the ability to do business with the city whenever it's most convenient to them.
(PRWEB) June 08, 2011
PbgFL.com has been recognized as a 2011 Top Local Government Website Award recipient by online encyclopedia and reference resource Juggle.com for stimulating local business and providing valuable e-government resources for community members.
This year's recipients applied innovative web technology in order to provide citizens with an overview of local programs and businesses within the community. PbgFL.com is one of several Local Government portals embracing the commitment to the community by providing 24/7 access to usable information online.
According to Matthew Doherty, Software Systems Manager for the City of Palm Beach Gardens, "Our main goal is to offer our citizens the ability to do business with the City whenever it's most convenient to them. Online applications have also allowed us to increase the level of service we provide despite having fewer resources to work with due to budget cuts."
Award finalists offer an array of features and functionality that cause them to surpass websites in their class. The Juggle.com government awards editors hand-selected this year's Top Local Government Award recipients by evaluating a variety of site features and functionality, including usability, timely content, access to e- government services and technological innovation.
"The use of Facebook, Twitter, and electronic newsletter subscriptions have helped us disseminate information about City events and other important information we want to share with the public. This social media enables us to provide 'teasers' with links bringing visitors directly to the content on our site they are interested in, eliminating the need for someone to search for it," noted Doherty.
Award winners receive a spotlight page on http://www.juggle.com that includes an interview with one of the individuals responsible for managing or looking after each website. For Palm Beach Gardens feature go to http://www.juggle.com/palm-beach-gardens-florida-top-city-government-website. Based in Belleville, Juggle assembles websites with the sole motive of clarifying what the internet was built for: accessibility and quantity and usefulness of intelligence to the public. Juggle's objective is simple, to design desirable websites, such as http://www.shotcups.com or http://www.wickerstorage.net that engage users with excellent subject matter and features. For more information on Juggle and other topics, see http://www.juggle.com/about-juggle.
###