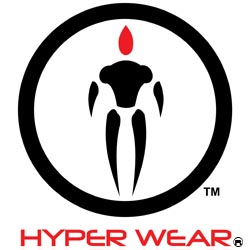 Hyper Wear is poised to accelerate the reach of its products with the creation of digital educational training content, live workshops, and continued international expansion. - Denver Fredenburg, CEO
Austin, TX (PRWEB) June 07, 2011
Hyper Wear Inc., a rapidly growing fitness company that creates innovative fitness products, announces a game-changing investment by angel investors. Participants in the equity growth capital funding include members of the Central Texas Angel Network (CTAN), Concho Valley Angel Network (CVAN), Baylor Angel Network (BAN), Joel Trammell, CEO of CacheIQ and co-founder of NetQoS (acquired by CA Technologies in 2009), and William E. Simon, Jr., Co-Chairman of William E. Simon & Sons. Mr. Trammell will serve on Hyper Wear's Board of Directors along with Craig Harris, CFO of Wild Basin Investment, LLC.
Hyper Wear's revolutionary training solutions include the Hyper Vest® PRO weight vest, Hyper Vest COOL™ cooling vest, SandBell®, WaterBell™ and SteelBell® dynamic free weights.
Inspired by more than a dozen recommendations and high reviews from top fitness and health media, this first significant infusion of equity for the company will provide growth capital to fuel building of Hyper Wear's innovative brand and product portfolio. In addition to its highly praised products, the management team has also upped its game by adding Nike veteran and ultra-athlete Denver Fredenburg as CEO, and performance training expert and Under Armour Training Council member, Diane Vives, as Director of Education and Training.
As part of its growth strategy, Hyper Wear will continue to expand its educational training around the flagship products Hyper Vest PRO weighted vest and SandBell sand-filled neoprene sandbag weights.
Founded in Austin in 2007 by President Cosmo Raines and COO Dirk Buikema, Hyper Wear has become a well-known innovator of products for sports performance training, fitness, physical education and health. Hyper Wear products are sold in 20 countries and there are plans to double that number.
"Hyper Wear's future grows more exciting every day," said Denver Fredenburg, CEO. "Having secured a group of investors who have deep experience in guiding high-growth companies, we're rapidly building a valued global brand in fitness and health. Hyper Wear is poised to accelerate the reach of its products with the creation of digital educational training content, live workshops, and continued international expansion."
Since its founding, the fitness and sports communities have embraced Hyper Wear as a dynamic, state-of-the-art fitness brand that has earned the respect of top experts in fitness, strength and conditioning. Hyper Wear's innovative equipment enables new ways to rehab and train the entire body with dynamic resistance and natural real-sport, real-life functional movements. With the help of top fitness and strength and conditioning experts such as Diane Vives, Hyper Wear's Director of Training and Education, and Jim Liston, President and Founder, CATZ (Competitive Athlete Training Zone),the company is improving the fitness and training methods for athletes of all sports and ages, including school children in physical education and anyone seeking new, safe and effective ways to be fit and healthy.
ABOUT HYPER WEAR
Hyper Wear, Inc. was founded to bring innovative products to market in the areas of fitness, health and wellness. Its solutions include the Hyper Vest® PRO weight vest, Hyper Vest COOL™ ice vest for pre-cooling and recovery, SandBell® sandbag weights, SteelBell® steel shot-filled weights, and WaterBell™ water-filled weights. Men's Health Magazine http://www.menshealth.com described the Hyper Vest as "the best" weight vest, and the non-profit American Council on Exercise (ACE) awarded the Hyper Vest weight vest its highest five-star rating in an independent review http://www.acefitness.org. Hyper Wear's products have also been recommended by or featured in Real Simple Magazine http://www.realsimple.com, Experience Life Magazine http://www.experiencelifemag.com , ESPN Rise, Muscle and Fitness, Men's Fitness, Women's Health, the Diet Detective, Dance You're A** Off television show, the L.A. Times, and Chicago Tribune. For more information on Hyper Wear, please visit http://www.hyperwear.com or call toll free 888-460-0628.
###