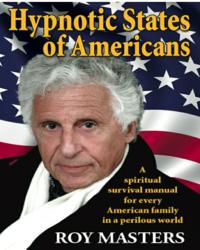 Grants Pass, OR (PRWEB) June 07, 2011
Roy Masters, author and hypnotherapist turned DE-hypnotherapist, appeared on "The Sean Hannity Radio Show"on Friday, June 3 to discuss his new book "Hypnotic States of Americans." The interview drew upon Masters' 68 years of experience beginning during World War II. His book describes a variety of tangled states of mind that appear on the surface to be mental, emotional and self-destructive lifestyles, but which are in reality, hypnotic states with a very simple self-fix. Masters explained that when any sort of emotional shock towards injustice confuses us in our formative years, it entangles common sense reality with emotionally sustained delusions -- resentment then becomes the glue that holds it all together so that life's "choices" cease to become our very own simply by remaining angry and judgmental.
In "Hypnotic States of Americans," Masters' accurately describes a variety of mental illnesses and self-destructive behaviors with fancy names which have no known cure unless an individual becomes awakened from a lifelong "sleep." The power of authority that lies in religion and politics can cause the hypnotic mind condition to become viral wherein the danger of losing our freedoms lie. His book illustrates how people may see themselves guided in doing unto others what was done to them, exactly as it happened in Nazi Germany. Further, the new book discusses how hypnosis is not a parlor game, but is a secret knowledge that implants and sustains all of our personal and collective miseries.
Masters explained that he became deeply involved with hypnotherapy by finding it necessary to answer troublesome questions raised by his experiences with mind manipulation during World War II. His new book, "Hypnotic States of Americans," seeks to show individuals how to become less susceptible to past and present hypnotic and traumatic influences and thus, more able to live in true freedom and become less vulnerable to manipulation and influence.
Masters' unmatched track record in helping people overcome the most serious mental and emotional problems now comprises the core of a program serving current and former U.S. military, "Patriot Outreach," the success of which earned its recognition from Iowa's governor when he declared May 30 "Patriot Outreach Day." Prior to the issuance of the governor's executive proclamation, the Iowa Senate and House "unanimously" passed their own separate resolutions in support of "Patriot Outreach."
Roy Masters continues to broadcast the longest running counseling show, titled "Advice Line," in talk radio history. Over years of counseling and personal experience in hypnotherapy, along with more than 53 years of De-hypnotherapy, Masters realized that the root power of negative suggestion lay in our wrong emotional response. Please visit http://www.fhu.com or http://www.trncentral.com to read more about Roy Masters.
"The Sean Hannity Radio Show" is hosted by television and radio personality Sean Hannity. The three hour program has over 500 affiliates across the U.S. with about 13.5 million listeners tuning in every week.
For more information about the interview, please visit facebook.com/radio.roy.masters.
"Hypnotic States of Americans" is now available on Amazon and through http://www.fhu.com.
###