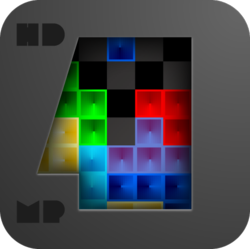 Quads is the best game I've seen for the iPhone in a long time
Hawthorne, CA (PRWEB) June 07, 2011
Bubble Imagineering' Quads is a great new addition to the family of Block Breaker games offered on mobile platforms. The concept of Quads began with the fundamental idea of creating a more challenging and engaging version of a classic Tris favorite.
The objective of Quads is to build full Quadrilaterals (thus Quads) around a square drop zone that sits in the middle of the game board using tetromino game pieces. To build Quads, the player must manipulate (rotate and move) tetrominos into favorable positions. Pieces fall towards the drop zone from 4 different directions. Points are awarded to the player simply for managing falling pieces faster, and for completing Quads. More points are awarded for multiple simultaneous Quads.
Having 4 directions for pieces to fall from lends itself to a great multi-player experience on a single iPad. Multi-player mode allows 2 to 4 players to compete on one iPad.
Quads features a marathon mode with 9 drop zone growth, and 9 speed levels for a total of 17 (initial level made up of level 1 of drop zone, and level 1 of time) levels (drop zone growth or time level increments selected at random through gameplay) each with themed artwork, speed levels only mode, drop zone growth only mode, and a static level mode. Quads allows players to select their favorite beginning parameters and store them for quick game starts. Players may store as many in-progress games as they wish and return to them later. Multi-tasking is supported for quick exit and re-entry into the previous game.
Quads is available on iPad in a limited free version, a complete single player only version and a full version that includes single and multi player gameplay named Quads SP HD Free, Quads SP HD and Quads MP HD respectively. Quads is also available in free and single player variants for the iPhone and iPod touch named Quads SP Free, and Quads SP respectively.
Quads MP HD for the iPad was held on Apple iTunes' front page as a "New and Noteworthy" app and within the "What's Hot" list each for one week. Later, Apple kept it in their "What We're Playing" for a week. One user states "Quads is the best game I've seen for the iPhone in a long time".
At Bubble Imagineering our goal is to create new and innovative software products. In addition to gaming and science we have a never-ending supply of ideas fueled by our imagination, and are developing for many arenas and on many platforms.
To see more of what we're up to, visit http://www.bubbleimagineering.com
About Bubble Imagineering, Inc.
Founded in 2009, Bubble Imagineering began as an engineering consulting company started by Ryan Shier. After consulting work slowed, Ryan began to bring code developed for the Mac and Windows platforms over to Apple's iPhone and iPad devices. Bubble Chemicals is the most capable periodic table app available on iOS today, and Bubble Spectrum is the only product of its kind on any platform. Bubble Imagineering has shifted focus solely towards internal product development and has many other gaming and non-gaming products in development and planned for future for the Android OS, Blackberry, iOS, Mac, Windows and even console gaming platforms. Stay tuned for more great products from Bubble Imagineering Inc.
###