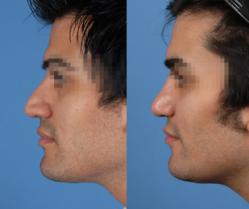 Every patient is different, but more patients than ever want to preserve ethnic characteristics while correcting individual facial features.
Dallas, TX (PRWEB) June 07, 2011
Dr. Rod Rohrich, president-elect of The Rhinoplasty Society, an international educational organization supporting surgeons who specialize in rhinoplasty (cosmetic nose surgery), urged colleagues at the society's 2011 annual meeting in Boston to prepare for an increase in requests for rhinoplasties by patients of ethnic descent. Dr. Rohrich, a Dallas rhinoplasty surgeon, co-chaired a symposia on this topic at the annual meeting of the Rhinoplasty Society in Boston. He also urged his colleagues to study non-Caucasian features and unique requirements for operating on patients with different ethnic backgrounds ranging from the Hispanic nose to the Persian-middle eastern nose. This is an emerging trend in the USA which is parallel to the globalization of all cultures in the USA population.
"It's becoming more accepted for people who have noses with pronounced ethnic characteristics to opt for surgical refinement that helps them blend into American society better, as well as correcting individual facial deviations that make them stand out uncomfortably," said Dr. Rohrich, who has performed many ethnic rhinoplasties and published a number of articles on the subject in professional peer reviewed journals.
"Every patient is different, but more patients than ever want to preserve ethnic characteristics while correcting individual facial features. Patients with non-Caucasian ancestry used to ask for Caucasian-type noses, which usually resulted in an over-operated and unnatural look," he explained.
Retaining ethnic characteristics in rhinoplasty, according to Rohrich, requires careful pre-operative analysis of the patient's nose in comparison to general characteristics of that person's ethnic group. The process also requires careful study of ethnic differences in nasal structure, such as skin thickness and width of the bony base, in order to plan proper procedures.
"A multitude of surgical maneuvers is often necessary to address all the salient characteristics of the ethnic nose and produce the desired aesthetic result," Rohrich explained. Surgical and aesthetic requirements vary for different ethnicities. African-American facial characteristics, for example, are different from Asian or Middle Eastern characteristics and therefore require a different approach to both analyzing and treating these nasal variations.
"Surgeons used to learn how to create a certain type of nose, and patients would choose the surgeon based on the type of nose they wanted. Modern rhinoplasty is not a one-size-fits-all procedure as it used to be, and ethnic heritage should be one of the considerations in planning," Rohrich said.
Rohrich, who has trained hundreds of plastic surgeons worldwide in both rhinoplasty and cosmetic surgery, performs both primary and secondary rhinoplasty in addition to facial cosmetic surgery in Dallas, Texas. Rohrich said surgeons who would like to learn more about ethnic rhinoplasty can receive additional hands on training in courses and are welcome to attend the annual, international Dallas Rhinoplasty Symposium. Surgeons also can seek training from doctors who specialize in ethnic cosmetic surgery. For more information about ethnic rhinoplasty, practitioners can contact Dr. Rohrich through his assistant Malacha O'Brien at (214) 821-9114 or by email at malacha.obrien(at)dpsi(dot)org.
About Rod J. Rohrich, M.D., F.A.C.S.
Dr. Rohrich holds the Betty and Warren Woodward Chair in Plastic and Reconstructive Surgery at UT Southwestern Medical Center in Dallas, Texas. He also holds the UT Southwestern Medical Center Crystal Charity Ball Distinguished Chair in Plastic Surgery. He is a graduate of the Baylor College of Medicine with high honors, with residencies at the University of Michigan Medical Center and fellowships at Harvard University (hand/micro surgery) and Oxford University (pediatric plastic surgery). He has twice served as president of the American Society of Plastic Surgeons. He has been repeatedly selected by his peers as one of America's best doctors, and has twice received one of his profession's highest honors, recognizing his contributions to education in his field: the Plastic Surgery Educational Foundation Distinguished Service Award. Dr. Rohrich participates in and has lead numerous associations and councils for the advancement of plastic and reconstructive surgery. He is a native of North Dakota.
About The Rhinoplasty Society
The Rhinoplasty Society is a non-profit organization dedicated to the open exchange of innovative ideas and techniques concerning rhinoplastic surgery. The society consists of surgeons throughout the world who specialize in rhinoplasty. The goal of the Society is education, allowing surgeons who have a strong clinical, teaching and research interest in rhinoplasty to exchange and develop ideas and to work out problems in a common forum of mutual respect and collegiality.
###