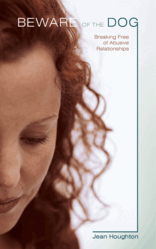 Portland, ME (PRWEB) June 08, 2011
According to the Centers for Disease Control and Prevention, 26.5 percent of women reported being a victim of domestic violence at some time in their lives. In Beware of the Dog (published by WestBow Press), author Jean Houghton tells readers about the years she spent in two abusive relationships in hopes of helping others who experience domestic abuse.
"I offer explanations on how an abuser is created, why a woman becomes involved with one and why she stays," says Houghton. "I relied on my decades of experience teaching family life education, partnering issues and child development to write this book."
As a high school family life education teacher, Houghton never imagined how her own family life would become such a battle. Her first husband was her high school sweetheart. She felt they would have a wonderful future together after finishing college and starting a family. Unfortunately, he began to have sudden fits of rage that eventually led to constant disrespect and battering. After 20 years of abuse, Houghton escaped with her young children.
Her second husband seemed to be the most amazing partner a woman could want. She soon found herself trapped in another abusive relationship, confused and complicated by his impulsive rage, willingness for therapy and reckless financial disasters. Again, realizing the depth of the deceit and destruction, Houghton sought escape.
She couldn't do it alone – with a renewed faith in God, her walk with the Lord helped sustain her through the rough times and gave her hope for the future.
Beware of the Dog will inspire women who feel stuck in an abusive relationship to get out and discover a better life, free of control, suffering and fear.
About the Author
Jean Houghton has a double major in the areas of family life education and child development, earning her bachelor's degree from the University of Maine. She has had the great fortune of spending her career working with more than two thousand adolescents in child development and parenting classes, challenging them to become healthy partners and parents and to create loving and nurturing environments for their children. Beware of the Dog is her first book.
For more information visit: http://www.bewareofthedogbook.com
WestBow Press is a strategic self-publishing alliance of Thomas Nelson, the world's premier Christian publisher, and Author Solutions, Inc. (ASI)—the world leader in the fastest-growing segment of publishing. Through this partnership, authors benefit from the rich publishing heritage of Thomas Nelson and the speed-to-market advantages of the ASI self-publishing model. Titles published through WestBow Press will be evaluated for sales potential and considered for publication under the Thomas Nelson imprint. For more information, or to start publishing today, visit westbowpress.com or call 866-928-1240.
###