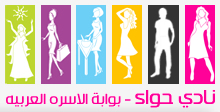 The ladies forum turned into a very active community where the members advise each other and confide in one another
Alexandria, Egypt (PRWEB) June 09, 2011
Arab portal Alnaddy.com introduces a new design, complete with new sections to its Women's Club. Alnaddy Women's Club offers a wide selection of articles pertaining to the everyday life of women and teenage girls in the Arab world. The Women's Club offers the female members of Alnaddy a place to discuss current news and interests, to be informed of a wide range of issues from politics and religion to personal growth and hobbies, and to receive advice and support from other members of the community.
A significant part of the Women's Club is dedicated to the Home and Family in the Arab world, including discussions about marital relationships and matchmaking. The specific needs and interests of women and girls in the Muslim world are attended to in wide sections that deal with religion and spirituality. The Health section of the Women's Club is dedicated to issues such as nutrition and fitness, pregnancy and baby care, and mental well being. The Beauty section of the Women's Club is packed with tips and articles about fashion, makeup, hairstyles, skincare and more. The site editors take special care in adjusting the content to the Islamic values of the visitors, such as providing fashion and beauty tips that go hand in hand with modest Muslim dress code.
In addition to articles, Alnaddy's forum offers girls and women a vibrant place to chat and consult with other members. The ladies forums, which bring together women from all over the Arab world, has quickly turned into a very active community where the members advise each other and confide in one another regarding the issues that are most close to their hearts. The forum members in Egypt also organize occasional gatherings where they celebrate the true friendships that were formed thanks to the forum.
About Alnaddy.com
Alnaddy is an Arabic internet portal that has been providing quality content to millions of visitors from all over the Arab world for seven years now. The site provides various content channels that update around the clock to deliver the latest news, useful information that include weather reports and prayer times, as well as popular content such as lyrics of hit songs, celebrity news, Women's information channel and more.
The site operates a vast dating section with tens of thousands of members from all over the Arab world that use the site to seek and find life partners. The service is completely free of charge.
###