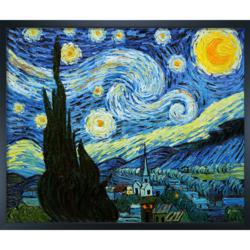 Data mining our vast amount of information gives us a unique perspective on the art market.
(PRWEB) June 07, 2011
The popular online art gallery, overstockArt.com, released today its Father's Day Top 5 list. The list names this year's most popular oil paintings for dads. Topping the chart is Vincent van Gogh's masterpiece "Starry Night." Oil paintings by master artists William Bradford, Wassily Kandinsky and Pablo Picasso also made the list.
overstockArt.com used state-of-the-art site analytics tracking to measure the site usage of male adults over the age of 35. Recording more than 5,000,000 sessions revealed that "Starry Night," was the most sought after painting clicked by male adults 37 percent of the time, while "Café Terrace at Night" garnered 23 percent of the clicks.
The oil paintings that made the "Dad's Favorites: Top Five Oil Paintings for Father's Day" list are:
1. "Starry Night," Vincent van Gogh – This masterpiece by van Gogh was named the best-selling oil painting of the last decade by overstockArt.com. The oil painting depicts the view outside van Gogh's sanatorium room window at night.
2. "Café Terrace at Night," Vincent van Gogh – Van Gogh's famous painting of the small coffee shop in Arles has caused it to become one of Southern France's most sought after attractions.
3. "The Old Guitarist, 1903," Pablo Picasso – This sorrowful portrait of an old man playing his guitar is one of the famous paintings Picasso created during his Blue Period (1901-1904).
4. "A Sunset Calm in the Bay of Fundy," William Bradford – This painting, created by Bradford in 1860, depicts full-sailed ships heading out to sea with the brightly peaked sun on its horizon.
5. "Farbstudie Quadrate (Color Study of Squares)," Wassily Kandinsky - Kandinsky's tour de force is one of overstockArt.com's bestselling paintings, bursting with bright colors and a contemporary design.
"Data mining our vast amount of information gives us a unique perspective on the art market," said David Sasson, founder and president of overstockArt.com. "Our unique insights and ability to forecast what people love on their walls enables consumers to make easy gift selections that will be cherished by the recipient for years to come."
About overstockArt.com:
overstockArt.com is the web's leading distributors of art reproduction oil paintings, with more than 100,000 wall décor combinations to choose from. In business since 2002, the company provides decorating assistance, custom framing and commercial wall decorating services. With an inventory of more than 60,000 paintings in stock at all times, order wait is minimal. The Wichita-based online art gallery was recognized as one of the fastest growing companies in the U.S. in the 2010 Inc. 500|5000 list. For more information, visit http://www.overstockArt.com.
###