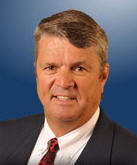 Being included in Super Lawyers makes me proud of the work I do and tells my clients that my efforts are recognized statewide.
San Antonio, TX (PRWEB) June 14, 2011
San Antonio, Texas attorney Harry S. Bates of The Bates Law Firm has been named by Super Lawyers magazine as one of the top attorneys in Texas for 2010. Only five percent of the lawyers in the state are named by Super Lawyers.
Harry Bates has 27 years of experience and was admitted to practice in Texas in 1984. Mr. Bates focuses on helping people recover monetary damages for accidents caused by the negligence of others, as well as representing the surviving family members of wrongful death victims.
"I appreciate the opportunity to serve my clients' interests. I always try to do my best. Being included in Super Lawyers makes me proud of the work I do and tells my clients that my efforts are recognized statewide. That feels good."
The selections for this esteemed list are made by the research team at Super Lawyers, which is a service of the Thomson Reuters, Legal division based in Eagan, MN. Each year, the research team at Super Lawyers undertakes a rigorous multi-phase selection process that includes a statewide survey of lawyers, independent evaluation of candidates by the attorney-led research staff, a peer review of candidates by practice area, and a good-standing and disciplinary check.
Thomson Reuters, Legal publishes Super Lawyers magazines across the country. In addition to the magazines, Thomson Reuters, Legal publishes newspaper inserts and magazine special sections devoted to Super Lawyers. In 2010, Super Lawyers reached more than 15 million readers.
Super Lawyers was first published in 1991 by Law & Politics and was acquired by Thomson Reuters, Legal in February 2010. Thomson Reuters is the world's leading source of intelligent information for businesses and professionals. Super Lawyers can be found online at superlawyers.com where lawyers can be searched by practice area and location.
About The Bates Law Firm
Harry Bates is in the business of helping people and represents the best interests of Texans who have been victimized by the tactics of large corporations or insurance companies. He does not represent businesses, corporations, or insurance companies. Rather, he represents real people with real problems caused by an injury or death.
Experience Makes a Difference
Attorney Harry S. Bates has received the highest "AV" rating from Martindale-Hubble Law Directory, a nationally recognized publication that rates attorneys and their law firms. Mr. Bates is certified by the Texas Board of legal Specialization in the field of personal injury. As a San Antonio personal injury attorney, he has recovered millions of dollars in verdicts and settlements on behalf of deserving clients.
The Bates Law Firm offers legal counsel primarily in the following areas:

Personal injury
Wrongful death
Auto and truck accidents
Medical malpractice
Tort litigation
Harry Bates understands that to his clients, their case is the only one that matters and things have to be done right the first time. He takes the time and effort to get to know each client personally.
Representing clients since 1984, The Bates Law Firm has more than 27 years of experience. For more information about the firm please go to http://www.harrybateslaw.com or call (210) 226-3777.
###