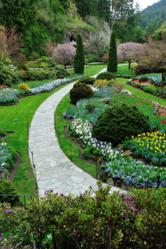 Many of our customers benefit from buying bulk quantities at bulk prices, but it must be done with careful planning and preparation
(PRWEB UK) 9 June 2011
From creating a flower border in the back garden to working on a large scale building project, buying landscape materials in bulk quantities can save a great deal of time, effort and money.
"Buying in bulk is cost effective and efficient for almost any gardener," said Sarah Dean, manager of Deans' Garden Centre in Essex. "If you have all the materials you need for your project right from the beginning, you will get the job done much quicker and cut out the inconvenience of trips backwards and forwards with small bags."
A family business since 1961, Deans' has specialised in a range of services that have appealed to gardeners for years, offering a wide range of quality products alongside expert advice and assistance to help customers complete their garden projects.
Selling bark, topsoil, soil improvers, sleepers and crushed slate plus speciality growing blends, the products of Deans' Garden Centre have been used for school play areas, farmland, vegetable plots and flower beds as well as the various needs of professional landscapers.
"Many of our customers benefit from buying bulk quantities at bulk prices, but it must be done with careful planning and preparation," said Sarah. "At Deans' we are more than happy to offer guidance on bulk quantities and ideal depths for the job you're doing."
For customers based in East Anglia, Deans' Garden Centre will help them choose, calculate quantities and even deliver the goods without them having to set foot on site – they'll even post a product sample to make sure it's exactly what they are after.
For more information contact Deans' Garden Centre on 01206 250 485, or visit their website: http://www.millfarm.org. Delivery service available within Suffolk and Essex and, depending on the size of your order, Cambridge and Norfolk too.
###