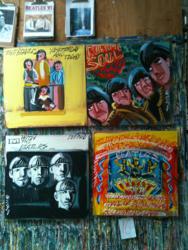 "It's cheap, it's art and it changes your life."
Teaneck, NJ (PRWEB) June 16, 2011
If you were hanging around the lower east side of Manhattan in the mid-nineties you saw the art of Steve Keene. Everywhere. Steve's work graced the walls of bars, cafes, and galleries. His paintings were for sale on magazine racks, and record shelves.
The concept that drives Steve Keene's art developed around 1993 and grew in part from Steve's friendship with and admiration of musicians. He spent a few years as a DJ on a radio station where, surrounded by thousands of records, it was harder to find something he didn't like than something he did.
Steve says, "I want buying my paintings to be like buying a CD: it's cheap, it's art and it changes your life, but the object has no status. Musicians create something for the moment, something with no boundaries and that kind of expansiveness is what I want to come across in my work." Around this time Steve developed his method of painting multiple paintings in a single day-long session. Even though they are created as multiples, each of Steve's paintings is one-of-a-kind. He works constantly, producing walls full of work every day. For him, every painting is part of a single on-going work of art that is now many miles long. Each individual painting is a souvenir of this enormous work.
In the past few years, he has collaborated with the Silver Jews, Pavement, The Apples in Stereo, Soul Coughing, Dave Matthews Band and Merzbow to create album art, video sets, stage sets and posters. Currently Steve has sold more than 140,000 paintings.
Steve Keene has shown at Moore College of Art in Philadelphia, Rice University in Houston, the Museum Ludwig in Cologne, Germany, the Santa Monica Museum of Art in Los Angeles, the Linden Centre for Contemporary Art in Melbourne, Australia, the Gulf Coast Museum in Florida and the Czech Centre in London.
"Fresh Art" is a selection of 144 of Steve's most recent paintings based on album covers.
This is the fourth show at BLAST in Teaneck, NJ.
The show will run from July 9 through August 1, 2011. There will be an opening reception on July 9 from 6-9 pm.
###