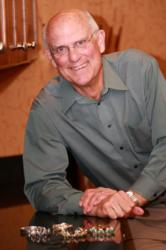 "Regardless of age, everybody needs a hobby. You need to keep the creative juices flowing, and it's never too late to start. Any time is the right time to start." -Bill Keck
West Des Moines, IA (PRWEB) June 09, 2011
In the course of a human life, different talents will develop at different times. Like the seeds of a plant, they will wait for the right environment and conditions before they will germinate, grow and bear fruit. For several residents of Edgewater, a senior living community located in West Des Moines, the seeds of artistic talent have developed later in life, but the results are beautiful. Their artwork will be showcased at Celebration of the Arts, an event hosted by Edgewater on June 10.
One such artist is Dr. Mark Durst, a retired dentist who has learned that the skills that made him great at his career now make him a skilled sculptor.
"It was really just a natural step," said Durst. "When you have a patient who has lost their teeth and you make a denture, you're trying to make a face and restore how he looks. Sculpting really isn't so different."
Durst has sculpted the faces of all of his grandchildren, as well as animals such as a dog and pelican, and he is currently working on an alligator. His favorite pieces are a nude and a tsunami, both carved out of alabaster. In addition to the admiration of his wife, children, and grandchildren, Durst has found his fellow residents at Edgewater to be most complimentary of his work.
"I never realized I was such a celebrity," Durst said with a laugh. "There are so many people here who are encouraging of my art, and who are always excited to see what I make next."
Another artist whose work will be shown at the Celebration of the Arts event is Ruth Dotterer. Dotterer began carving Santa Claus faces out of driftwood when she and her husband retired, and she bought some wood-carving tools to pass the time.
"When I first started, I couldn't even make a nose," said Dotterer. "I don't have an art degree. I'm self-taught, but I'm proud of how far I've come."
At one time, Dotterer's art was sold in six stores, and some have been on display at the Museum of Folk Art in New York City. These days, her art is enjoyed mostly by her neighbors at Edgewater.
"When I moved to Edgewater, they knew about my hobby, so they made one of my bedrooms a carving room with vinyl flooring instead of carpet. It has a gorgeous view of the south and the west, and in the winters I love to look out and see the deer and geese. It's certainly provided me with a lot of inspiration," said Dotterer.
Bill Keck gained the skills he applies to his craft during his youth, but found new interest and time to devote to his art just in recent years. As a junior in high school, Keck learned how to cut and polish stones at a YMCA camp. A couple of years later, he took a jewelry-making class in college. Then those skills fell by the wayside as he established Keck Parking, which manages parking facilities in downtown Des Moines. Now that the business requires less of his time, Keck has found renewed interest creating silver jewelry.
"When I got back into it, it was kind of like riding a bicycle," said Keck. "I really enjoy it. I have 12 grandchildren, and six of them are granddaughters, so most of my jewelry goes to them."
Keck has a shop in his basement at Edgewater where he can work with wood, silver and stones. He said that the community is very supportive of the hobbies of residents, and has hosted classes there. Keck said he would even be willing to teach classes in his own workshop.
"Regardless of age, everybody needs a hobby," said Keck. "You need to keep the creative juices flowing, and it's never too late to start. Any time is the right time to start."
Nearly a dozen artists will be showcasing their artwork during the Celebration of the Arts at Edgewater, located at 9225 Cascade Avenue in West Des Moines, on Friday, June 10, from 2 p.m. to 4 p.m. This free event is open to the public, but guests are encouraged to R.S.V.P. because space is limited. To R.S.V.P., call Edgewater at 1-800-927-4106. For more information about Edgewater, visit the community's website at http://www.EdgewaterSeniorLiving.org.
About Edgewater
Edgewater is WesleyLife's newest senior living community, located two miles west of Jordan Creek Town Center in West Des Moines. The active life community offers 137 independent living apartments and 12 villas, and includes a full continuum of care at Brookside Assisted Living (32 apartments), Beacon Springs Memory Support (16 suites) and The Cottages Skilled Nursing and Rehabilitation (40 private rooms). Edgewater embraces a personal, positive approach that enriches lives, and promotes good health for one's entire body, mind and spirit.
###