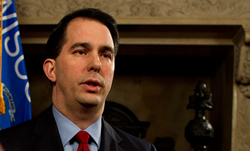 "Think about it," Hausmann said. "How easy is it for one auto accident victim to have more than $25,000 in medical bills? How easy is it for a van load of people to rack up medical bills, lost income, and other damages of more than $50,000?"
Milwaukee, WI (PRWEB) June 09, 2011
Charles Hausmann, president of Hausmann-McNally S.C. says Wisconsin not only has the best pro football team in the world—our beloved Green Bay Packers-- it also holds another, less prestigious, distinction. The state now leads the nation in driving a pro-corporate and anti-consumer insurance agenda. The state's "Truth in Auto Insurance" bill was repealed by Wisconsin Governor Scott Walker, and replaced by Assembly Bill 4, which will benefit insurance companies to the detriment of people who drive cars, trucks and motorcycles. These changes will likely affect people all across the U.S. as the political influence of the insurance lobby is showing up in new state rules governing auto insurance.
Here are key changes:
The changes in Wisconsin law, scheduled to go into effect on November 1, 2011, are supposed to enable the auto insurance consumer be able to buy cheaper insurance. They do this by lowering the liability insurance limits that people must carry. Hausmann believes the law enables insurance companies to sell their most profitable product (the lower-limit policies) and steers consumers away from more sensible and reasonably priced policies. In essence, the government is encouraging consumers to purchase an inferior and inadequate product.
The mandatory minimum liability limits on automobile insurance policies were reduced from $50,000 -$100,000* to $25,000-$50.000. (*The first number indicates the limit of how much one victim could receive from the policy per accident, the second number is the maximum amount per accident that can be paid out in the case of multiple victims.)
"Think about it," Hausmann said. "How easy is it for one auto accident victim to have more than $25,000 in medical bills? How easy is it for a van load of people to rack up medical bills, lost income, and other damages of more than $50,000?"
"Those amounts are paltry and will leave consumers' personal assets at risk," he continued. "Where does the money come from if the insurance coverage is inadequate? It comes from the personal money and resources of the individual who bought the "cheap" insurance. If there isn't the money, or he goes bankrupt, the injured victims are further victimized."
Hausmann-McNally research shows that insurance policies are more expensive at the lower-limit level because consumers get by far the worst bang for their buck. That is because their lower liability policies are their highest-profit product.
For instance, for a 58 year old, unmarried Milwaukee man, the cost of upgrading from the most basic $50,000-$100,000 package to a $100,000-$300,000 package from Progressive Direct Insurance goes from $63.85 a month to $66.85, exactly three dollars.
For that same man, the cost of upgrading a $100,000-$300,000 Allstate policy to a high-end $250,000-$500,000 package costs an extra $12 a month.
These price increases run true for all demographics. Whether it's an extra two dollars a month to upgrade her Progressive policy for a 46 year old married woman, or a 21-year-old man spending an extra six bucks to bump up his policy from Progressive.
Uninsured/Underinsured Motorist Coverage
Hausmann-McNally urges insurance coverage purchasers to recognize that this new law is not in their best interest. The firm urges consumers to shop with an eye to what makes sense in these times, with medical and other expenses that mount quickly in the case of a serious accident.
As of November 1, 2011, the bill also prohibits the practice of "stacking," which enables owners of multiple cars to have their uninsured motorist coverage limits stacked one on top of the other in case of serious injuries. As an example, if you owned two cars and the uninsured motorist coverage was $50,000 per car, you would be entitled to $100,000 of coverage because you would add the maximum uninsured limits from all your uninsured motorist policies. It makes pure economic sense that you paid for two policies for two cars, and therefore should receive the benefit of two uninsured policy maximums.
Under current Wisconsin law, if a two-car family purchases uninsured motorist coverage on each car in the amount of $50,000, the amount of uninsured coverage is actually $100,000 because the family insures two vehicles. Under the new law that takes effect November 1, 2011, regardless of how many cars you insure and how many premiums you paid for, you would only receive the benefits of one policy. To sum up, Hausmann believes, under the new law consumers lose and the Wisconsin insurance companies win. Consumers pay for multiple policies, but only get the benefit of single coverage regardless of how many vehicles you insured and how many premiums you paid.
Hausmann-McNally S.C. disagrees strongly with this new legislation. Hausmann said stacking ensures accident victims get enough money to pay off their medical bills, hospital costs, recoup lost wages as well as pain and suffering compensation. This new law is a terrible public policy that only protects the economic interest of the insurance industry and throws the consumer under the bus.
"This new bill dramatically reduces the coverage provided by auto policies and encourages people to buy the least cost-effective products they sell," Hausmann argues. "Wisconsin's elected officials should be protecting the interests of its citizen-drivers, not the insurance companies."
###