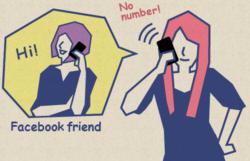 Leveraging the power of Facebook
Kamakura, Japan (PRWEB) June 07, 2011
iPhone app 'Reengo' developed by Kayac, which debuted in AppStore Japan less than a month ago, is launched in the US AppStore today. The app was noted unique for making phone calls possible with absolutely no need for phone numbers.
Reengo allows free calls between Facebook friends who have Reengo installed over 3G and Wifi, and runs efficiently without draining the iPhone's battery. Upon the release of Reengo in the Japanese AppStore on May 11, it has topped on the ranking for 'social networking' apps. The Android version is scheduled for release this June, and soon calling between iPhone and Android will be possible.

Compatible with iPhone3G, iPhone3GS, iPhone4, iPod touch, iPad requires iOS4.0 or later.
Reengo differentiates itself from most competitors in that it concentrates on a very simple function of calling based on the 'platform de-facto' Facebook, doesn't require phone numbers at all, and the very important fact that it doesn't need heavy infrastructure, making it easily scalable.
It isn't just an app. Rather; it's a proposition of a new lifestyle. The development team hopes to get more users involved so that they can constantly improve it with the community.
About Kayac Inc.
URL: http://www.kayac.com/
Kayac Inc. is a multi-faceted Japanese web and IT company that works in a unique and playful way. On top of high-profile client work it has also created a large portfolio of self-developed content and products, including online communities, art projects, food businesses and fun SmartPhone apps. Several of its games, available through major Japanese platforms such Mobage-town and GREE, have attracted millions of users.
###